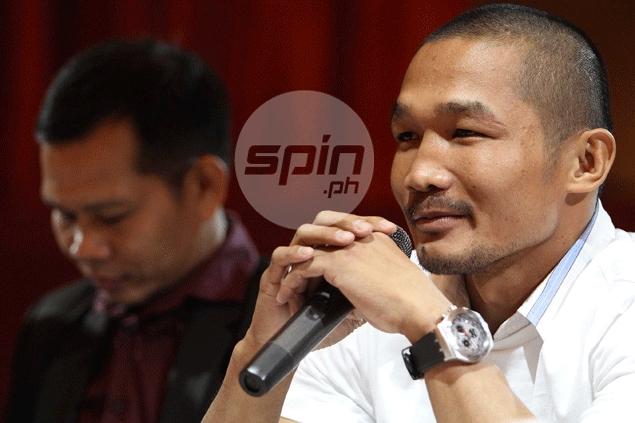 SORSOGON native Michael 'Hammer Fist' Farenas is easily the 'Dr. Jekyll and Mr. Hyde' of Philippine pro boxing. There is the Dr. Jekyll or the good side of Farenas, the no-nonsense slugger who packs a hellacious left punch. Then there is the devious Mr. Hyde version, the slugger who loves to hit below the belt and initiate cut-inducing head butts.
In the early part of his 10-year career, Farenas personified Mr. Hyde in the squared circle and it resulted in several promoters and prospective opponents being turned off. In July 2012, Farenas finally received a shot at the World Boxing Association (WBA) super featherweight (130 pounds) championship opposite Japanese Takashi Uchiyama but blew it when the bout ended in a technical draw after just two rounds. Farenas again barged inside head-first and a clash of heads ensued. Farenas had looked sharp and swift in the opening round, but the Mr. Hyde in him again got in the way.
Farenas seemed destined to a moribund career when he was given another chance five months after the Uchiyama fiasco. In December 2012, Farenas battled then undefeated Cuban power-puncher Yuriorkis Gamboa for the interim WBA super featherweight crown. Set up as a sacrificial lamb, Farenas ended up giving Gamboa the fight of his life. Farenas gamely traded with Gamboa and floored the cocky Cuban in the ninth round. While Gamboa eventually pocketed the decision after 12 rounds, Farenas' gutsy performance merited serious attention.
Farenas, 39-4 with 31 knockouts, has since been on a roll. The 30-year-old southpaw has won his last five fights, all by knockout. In his most recent outing on July 2, Farenas fortified his bid for another title shot when he demolished the previously unbeaten American Mark 'Too Sharp' Davis in eight rounds. Farenas opened a cut on Davis' eye in the opening round and battered the American for the remainder of the fight. After nearly knocking out Davis in the fifth stanza, Farenas finished the job in the eighth when he unloaded a torrent of power shots that forced the referee to step in and stop the carnage.
The victory over Davis put Farenas within spitting distance of a shot at the International Boxing Federation (IBF) super featherweight crown. The IBF Championship Committee recently ordered a title-elimination showdown between Farenas and American Diego Magdaleno, with the winner advancing to face the winner of the September 27 fight between challenger Fernando Saucedo of Mexico and IBF champ Rances 'Kid Blast' Barthelemy of Cuba.
ADVERTISEMENT - CONTINUE READING BELOW
Magdaleno flaunts a record of 26-1 with 10 knockouts. A converted southpaw, Magdaleno is strictly a boxer with anemic power in his mitts. He fought for the World Boxing Organization's super featherweight crown but lost on points to Puerto Rican Roman 'Rocky' Martinez in April 2013. Magdaleno succumbed to Martinez's pressure and also kissed the canvas in the fourth round. Magdaleno has been battling injuries lately and this explains why he only fought in an eight-rounder in his last fight.
Compared to Martinez, Farenas offers a more aggressive style and a more powerful pair of fists. Two-division champion Gerry Penalosa, who has been overseeing Farenas' career, ardently believes that his protégé will not be denied of a win against Magdaleno.
"If same ang performance ni Michael sa last fight nya or ma-improve pa, he will kill Magdaleno," Penalosa told this writer.
It appears that the Dr. Jekyll in Farenas is finally taking over. If Farenas and his punches stay on the right path, there is no reason to doubt why he can't make it all the way to the top.