CHICAGO - I first met Floyd Mayweather in September of 2002, during the final press conference for the Oscar Dela Hoya versus Fernando Vargas super welterweight brawl at the Mandalay Bay Events Center in Las Vegas.
Back then, he was simply Pretty Floyd, a trickle in the endless stream of talents that flowed through powerhouse Top Rank, Inc. No entourage. No gaudy jewelry. No security detail.
He was just Floyd from Grand Rapids, Michigan, an upcoming fighter whose eyes glowed with the desire for greatness. He had fast hands, quick feet, and a motor mouth. In other words, he was a promoter's dream.
In 2006, according to Kevin Iole of Yahoo Sports, Mayweather bought out his contract with Top Rank for $750,000, freeing himself to create Mayweather Promotions. The gamble paid off immensely as Floyd is now the richest boxer ever, setting all sorts of pay-per-view records and earning more income than he can count.
Can you imagine if Manny Pacquiao had done the same? Promoting his fights and establishing his own brand while at the prime of his athletic powers? With a loyal fan base behind him, and without a middle man cutting into his pay-per-view sales, can you imagine the financial possibilities?
Continue reading below ↓
Recommended Videos
Ah, but I digress.
With success, the wealth followed. So did the fame and notoriety.
Floyd now travels via private jet, often with a million dollars in cash sitting nearby, stuffed inside a Louis Vuitton gym bag. He now has an army of nasty, oversized bodyguards. He wears chains with more diamonds than a pawn shop. And his Hublot wristwatch is bigger than a grandfather clock.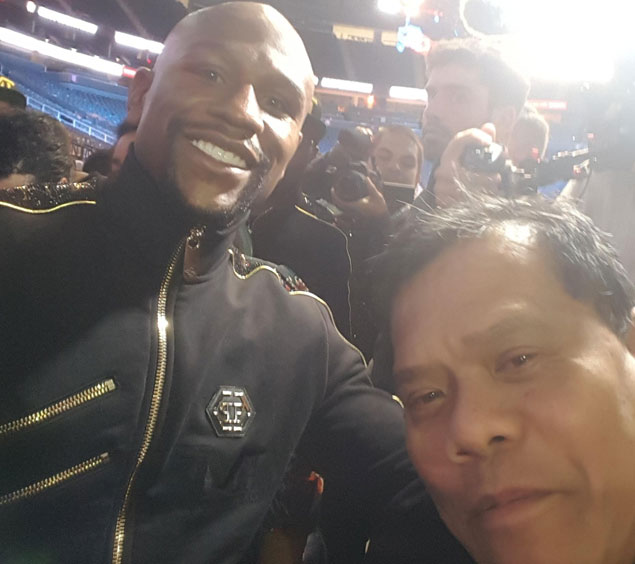 THE BEST EVER. When we look at Floyd, we often frown at the excess, scowl at the braggadocio and judge him exclusively as a celebrity instead of his totality that includes being a fighter with subliminal, once-in-a-generation talents.
Three nights ago at the T-Mobile Arena in Las Vegas, where he fought Conor McGregor in a mismatch that turned out to be moderately entertaining, Mayweather reminded us why he is the Doberman in a kennel full of poodles.
Installed as a prohibitive -700 favorite when the opening bell rang, Mayweather carried with him to the ring a unique set of challenges.
He was 40 years old and rusty from a 714-days layoff. His 29-year old, foe, who was bigger and taller, had bloated to nearly 170 pounds while Floyd only rehydrated five pounds after weighing in at 149.3 the day before.
McGregor had his moments early, bullying Floyd with his size. But just as he had done 49 times before, Floyd, figured out McGregor like Erno Rubik's cube. Which was no surprise considering that Mayweather had once frustrated Manny Pacquiao, dominated Canelo Alvarez, outlasted Oscar Dela Hoya and demolished Ricky Hatton.
After throwing 430 punches, Conor hit Floyd 111 times, a minor miracle.
But Mayweather landed 170 of 320 total punches (53 percent), 18 of 59 jabs (31 percent) and 152 of 261 power punches (58 percent). Sensing that McGregor was demonstrably fatigued after the sixth round, Mayweather administered a punishment that concluded with a 10th-round stoppage.
Unlike the Mayweather of old, the old Mayweather, in his last hurrah, chose not to dance. Instead, Floyd stalked McGregor as if the Irishman owed him money. Floyd also took unusual risks and he let his hands go with unfettered aggression.
Throughout his 21-year career, he may not be the most interesting fighter to watch style-wise, but when we wail about the all-time great, Mayweather's 50-0 record speaks the loudest. I mean, how could he not be? He never ducked anyone, he won 11 championships and ruled five divisions.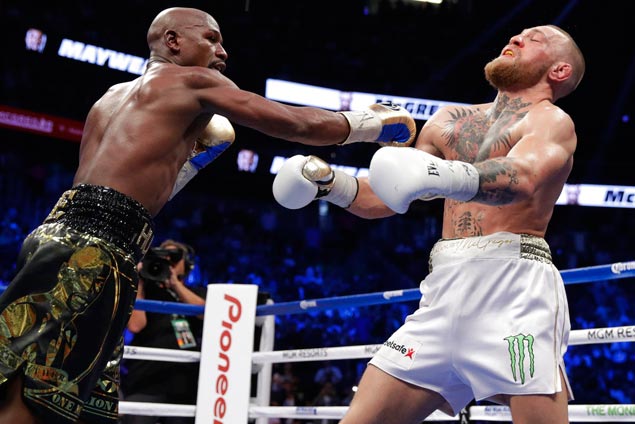 MONEY. MONEY. MONEY. According to Mayweather, ticket sales for the fight was "somewhere over $80 million," which means each of the 14,623 fans who witnessed the live action paid an average of $5,470 to enter the T-Mobile Arena.
When all the counting is done - merchandise, tickets, pay-per-view buys and sponsorship deals - Mayweather is poised to clear $300 million, or $10.7 million a minute for his 28 minutes of ring work.
Mayweather also fattened pockets beyond his own. He made money for other promoters, casino sportsbooks, arena employees, etc.
But his greatest legacy is creating the template where boxers, who take all the physical risks and do all the grunt work, should be paid more than the promoters who merely negotiate and push paper to make a fight materialize.
If Mayweather isn't The Best Ever, then who is?