LIKE the rest of the mediamen who waited for hours in vain, celebrity host Gretchen Ho also felt disappointed over the no-show of boxing star Floyd Mayweather Jr. in his very own press conference on Tuesday night.
Still, it's the spirit of Filipino hospitality that prevails for the former Ateneo volleyball star even with the inconvenience brought about by Floyd Jr's controversial non-appearance at the Resorts World Manila.
Ho was supposed to host the event together with Andrei Felix.
"At the end of the day, we're still very happy he went to the Philippines, whether or not we saw him. It's still an honor to have him here and host him," said Ho.
"And I'm sure he made a lot of people happy today, those who were able to see him. I hope he had a great time with the rest of the time that he's here."
The press conference was set for 3 p.m. but an official announcement that the 41-year-old retired boxing champion won't be coming wasn't made until around 11 p.m.
Management of Resorts World Manila profusely apologized for the hassle.
Gretchen of course, failed to hide her disappointment just what everybody who were around at the Grand Bar Lounge generally felt.
Continue reading below ↓
Recommended Videos
"I was so excited to see him because it's a once-in-a-lifetime opportunity. I was looking forward to seeing and talking to him," she said. "I was actually OK waiting for him for eight hours. But for him not to show up, of course, I'm disappointed."
"I think that's how things go in our line of work. We're seeing another side of him, his infamous side," Gretchen said with a laugh.
Both Gretchen and Andrei would also like to give Mayweather the benefit of the doubt after having gone through a busy day that saw the multiple world champion arrive from Boracay in the afternoon, go straight to his treatment at the Belo Skin Care Clinic of which he is now its new ambassador, visit some famous shops around Greenbelt and Glorietta, before capping the day by having a late dinner with his entourage at a popular barbeque fast food restaurant known for serving unlimited rice at its Mall of Asia branch.
"Probably he's already tired na rin because he got a long day," said Andrei.
"He probably had a good time roaming around Metro Manila," added Gretchen.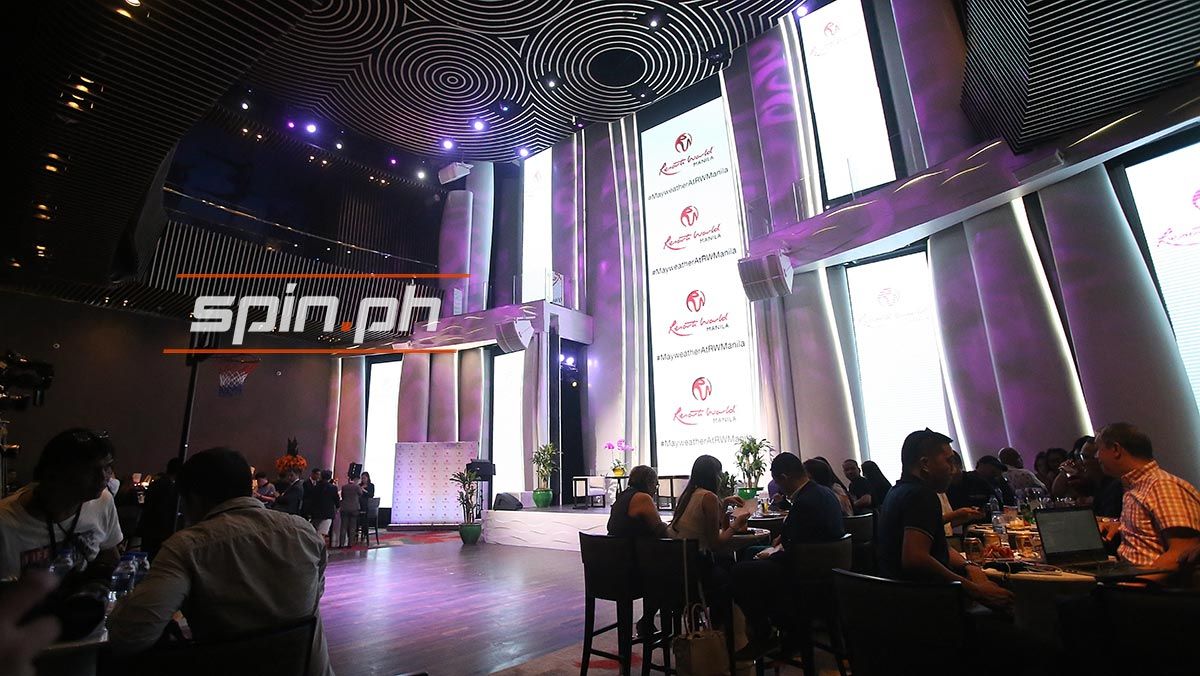 Besides, as Gretchen puts it, Mayweather's non-appearance was a story in itself.
"Puwede kong ikuwento sa mga apo ko, 'Alam mo, anak, muntik ko nang makita si Floyd Mayweather. Hinintay namin siya ng walong oras, pero sayang hindi.'"
"But you know, just the effort of being here and showing yung ganung excitement, kahit hindi ko siya nakita, ok na din. I had the experience."
In the future, Gretchen said she won't pass up another chance to see the legendary boxer who ended his career with a perfect 50-0 record.
"I hope to see him," she said. "I just hope he enjoys his time here in the Philippines."