LOS ANGELES – If Floyd Mayweather Sr. thinks Manny Pacquiao is just an 'ordinary guy,' Freddie Roach Floyd believes Floyd Jr. is nowhere the great fighter that he claims to be.
Despite his clean record of 47-0 (26 KOs) and a claim to being the best pound-for-pound fighter in the world today, Roach said he is not awed by Mayweather's accomplishments, or even his claim that he's a better fighter than legendary champions Muhammad Ali and Sugar Ray Robinson.
"I'm not thrilled with him. I don't think he's a great fighter. I don't judge him as a great fighter. No, he's not," Roach stressed on Tuesday after going six rounds with Pacquiao on the mitts and having the Filipino southpaw spar for eight rounds at the Wild Card gym here less than two weeks before he fights Mayweather Jr.
The fighting words of Pacquiao's longtime trainer came after Floyd Sr. declared from their training camp in Las Vegas that the Pacman is just an opponent in another ordinary fight for his unbeaten son.
"Ain't nothing different from this fight," said Mayweather Sr. "We're just fighting an ordinary opponent. We're not fighting Cassius Clay. We're fighting an ordinary guy."
[See Floyd Sr. on Pacquiao: 'Were not fighting a Cassius Clay; we're fighting an ordinary guy']
Continue reading below ↓
Recommended Videos
Roach wouldn't take Mayweather Sr.'s words sitting down as he fired back, taking aim at Floyd Jr and his unbeaten record.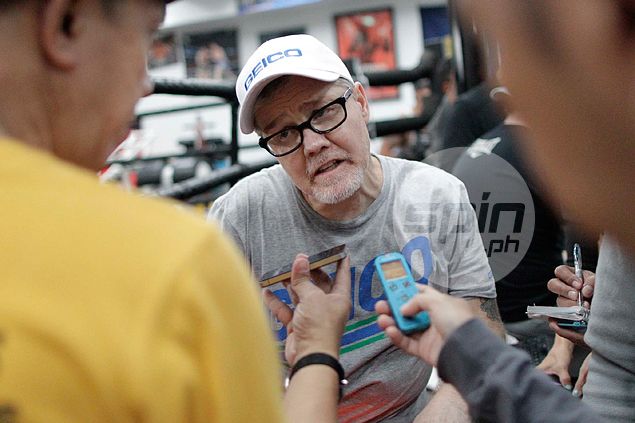 "We have losing record, but you know what, we learned from our losses. You don't learn from wins," he added. "He hasn't progressed at all, He's the same fighter he was when he started."
Roach went on and disclosed he and Pacquiao are not afraid of losing, since he said those "things happen" because "that's part of boxing."
But the seven-time Trainer of the Year ended it by saying, "Floyd will find that out real soon."
ALSO SEE:
View VIDEO: Apl.de.ap perks up Pacquiao training with impromptu rap session
Floyd Sr. on Pacquiao: 'We're not fighting Cassius Clay; we're fighting an ordinary guy'
Judge who made costly error in Pacquiao-Marquez I back for Mayweather fight
Learn more about Mayweather strengths, weaknesses. See ALL ANGLES podcast
The champ meets his match. View VIDEO
Even in terms of 'Class A' imitations, Pacquiao shirts still a class unto itself
Price tag of ads on Manny Pacquiao's trunks nothing short of staggering
Pacquiao had a classic retort after Mayweather called him 'reckless'
Basketball talk a welcome distraction for Pacman after hard day at gym
Wondering why Pacquiao never got a shot at Olympic gold medal?
Advertising spots for megafight to cost an arm and a leg. Find out how much
Two Filipino fighters came close to fighting Mayweather. Find out what happened
Mayweather camp better not do anything foolish: 'Boy Kapre' will climb ring with Pacquiao