LEAVE it to master tactician Freddie Roach to do the talking about Manny Pacquiao authoring a knockout over Chris Algieri in his defense of the World Boxing Organization (WBO) welterweight belt less than a month from now at the Cotai Arena in Macau.
With the 12-round bout to be fought at a catchweight of 144 lbs., Roach has no doubt the reigning champion can knock the lights out of the taller and unbeaten challenger from New York City.
"I would love to see a knockout," said Roach from General Santos City, where Pacquiao has been holding training camp for more than a month now.
"This is at 144 and I think his (Pacquiao) power will come back. I see a knockout coming for sure."
Pacquiao, 35, has not stopped an opponent since scoring a 12th round technical knockout of Miguel Cotto in their 2009 welterweight title match.
Humble as he is, the Filipino ring great refuses to talk about knocking the 5-foot-10 Algieri out.
"We cannot go into the fight thinking about the knockout. A knockout will not change the result of the fight as long as we get the win," said the 'Pacman.' "Chris Algieri is a very dangerous fighter and we are taking nothing for granted in this training camp."
Continue reading below ↓
Recommended Videos
But Roach believes going down in weight would benefit Pacquiao, who he believes is a little bit smaller than most natural 147-pound fighters out there.
"When you are fighting a 147-pounder and you only weigh 135 yourself or 140, you are in there against much stronger guys. Manny only has two knockouts as a welterweight," said Roach obviously referring to Cotto and the great Oscar De La Hoya (9th round TKO).
"But he has a lot of knockouts at 135 and 140, and the thing is, this is a catch-weight of 144. If he feels good at 144, we may go to 140 again. At 140, he will be a better puncher than at 147 because the guys are smaller and not as strong."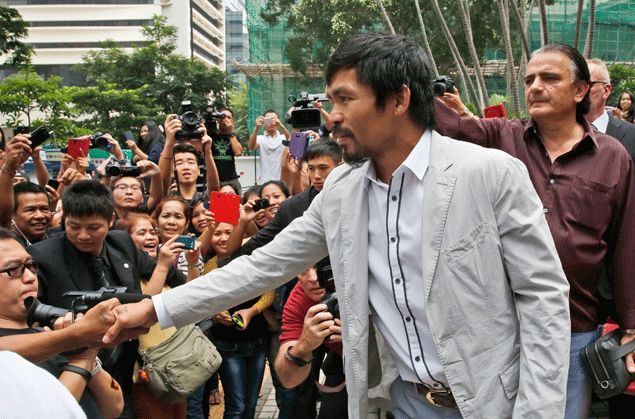 Then again, Roach is not taking anything away from Algieri, the current WBO light-welterweight title holder who eked out a split decision over former Pacquiao sparmate Ruslan Provodnikov to win the 140-lbs. crown last June.
Algieri was knocked down twice by the hard-punching Provodnikov but rallied to pull off one of boxing's biggest upsets of the year.
"Well, Algieri did just beat one of the best punchers in the world. He got off the deck twice and he showed a lot of heart. He definitely deserves to be there," noted the five-time Trainer of the Year.
"It's going to be a great fight, that's why we are training hard for this fight."