IT is a matchup that can only be concocted by a descendant of P.T. Barnum, the master showman of the late 1800s who became famous for promoting hoaxes and for founding the Barney & Bailey Circus.
On August 26, in Las Vegas, Nevada, mixed martial artist Conor McGregor will take on multi-division boxing champion Floyd Mayweather Jr. in a matchup that is shaping up to be worthy of Barnum's catch phrase, "There's a sucker born every minute." The fight seeks to cajole the raw imagination of the typical fight fan and hopefully convince him to shell out top dollar for the event.
Truth be told, from the time the absurd pairing was floated, boxing purists have been trying to shoot it down with an assortment of verbal ammunition.
"This isn't boxing, it's entertainment," said former world heavyweight champion Lennox Lewis.
"At this point, only we can shut the circus down by making it clear that we won't pay to see a joke of a fight and telling our casual-fan friends that they shouldn't either," wrote former champion turned boxing promoter Oscar De La Hoya on his Facebook account. "We'll be $100 lighter and we will have squandered another opportunity to bring boxing back to its rightful place as the sport of kings."
Continue reading below ↓
Recommended Videos
To place in perspective De La Hoya's misgivings, Mayweather-McGregor is taking place roughly a month before the highly-awaited middleweight showdown between Gennady Golovkin and Saul 'Canelo' Alvarez. Instead of having the undivided attention of fight fans to the Golovkin-Alvarez showdown, Mayweather-McGregor is looking to steal a little pay-per-view thunder from it.
"It's a commercial fight, a business fight," Golovkin told ESPN. "It's not boxing and it's not good for Mayweather's record."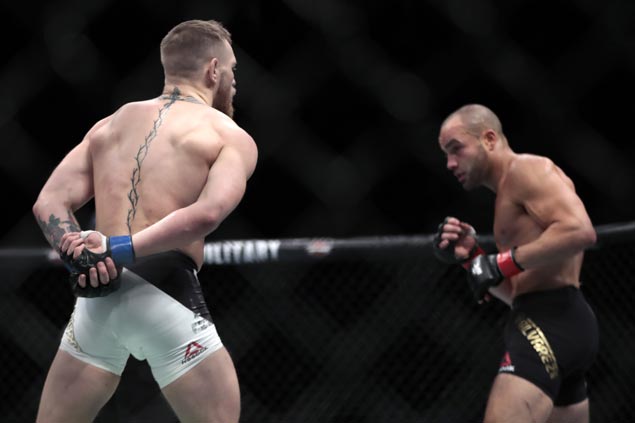 With a record of 49-0, Mayweather is currently in a tie with former heavyweight champ Rocky Marciano for the best unblemished mark in pro boxing. By going for 50-0 against McGregor, who has never boxed as an amateur or pro, Mayweather is spitting at boxing history. Interestingly enough, the fight with McGregor is taking place some two years after Mayweather authored the biggest rip-off in pro boxing: the 12-round waltz with Manny Pacquiao. Mayweather, who walked away with over $100 million in the Pacquiao fight, now wants to do the same thing with another fistic charade.
The funny thing, however, is that Mayweather might just get away with it once more. Mayweather and McGregor figure to sell the fight with their innate brashness, but all the tough talk is likely to dissipate once the bell rings and reality sets in.
McGregor, a two-division (featherweight, lightweight) champion in the Ultimate Fighting Championship (UFC), will not be allowed to use MMA techniques in the fight set for 12 rounds. In other words, he cannot kick, use his elbow or employ takedown maneuvers. It is strictly stipulated in the contract that McGregor will be slapped with a lawsuit if he kicks Mayweather. McGregor will use 10-ounce boxing gloves and will have to tip the scales at around 154 pounds, boxing's junior middleweight limit. For consenting to all the restrictions, McGregor is estimated to take home over $50 million, counting his share in the pay-per-view sales.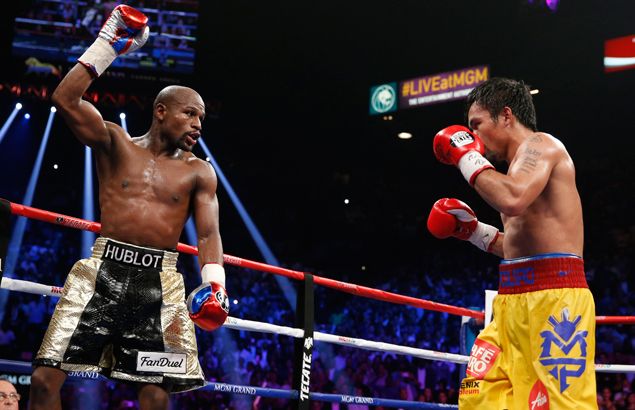 The 40-year-old Mayweather has not fought since September 2015, but he agreed to face McGregor knowing fully well that it will be nothing more than a megabuck sparring session. If McGregor is actually allowed to employ MMA tactics, you can bet the rent money that Mayweather would have stayed in hibernation.
Boxing is no stranger to bizarre matchups. In 1949, an official boxing match between a man (Gus Waldorf) and a bear was held and the bear won. In 1976, world heavyweight boxing champion Muhammad Ali took on wrestling star Antonio Inoki in Japan. The match was fought under special rules and resulted in a 15-round draw. Here's the catch: The fight was supposed to be a choreographed, exhibition contest, but according to promoter Bob Arum, Inoki ended up throwing some real, vicious kicks that damaged Ali's legs. Ali-Inoki was poorly received, with the fans throwing trash in the ring and yelling "money back!"
Mayweather-McGregor will just have to be taken for what it is, an unlikely pairing lifted directly from Barnum's memoirs. The world is overpopulated because suckers are still born every minute, but if these guys have the money to burn and know what exactly they are paying for, the world figures to continue spinning after the fight is over.