CHICAGO - His last 23 fights all ended in brutal knockouts. Ringside judges were optional, but three had to be hired per bout just because the rules mandated it.
When he hits opponents with body blows, they wince in so much agony you'd think their spleen had been removed without the aid of anesthesia.
When he clobbers his foes in the head, it usually leads to a series of events that include a loss of consciousness, the administering of smelling salts, and a visit to the hospital ER for a brain scan.
While famous athletes usually go by first names, he goes three letters - GGG.
Gennady Golovkin did something strange last Saturday night (Sunday AM in Manila) at the Madison Square Garden, aka The Mecca of Boxing. With 19,939 blood-thirsty fans in attendance, Triple G won and lost in the same fight.
He defended his middleweight belt for the 18th time, but the narrow unanimous decision over Daniel Jacobs ended his knockout rampage at 23.
A barrage of questions followed: Did he get old overnight? Is his punching power diminished? Has his aura of invincibility vanished?
The answer, of course, is a triple "No."
GGG is a relatively young 34. He turned pro on May 2006 and thanks to a stellar 37-0 record with 33 KOs, he has fought in only 172 rounds and doesn't have as much wear and tear as an ordinary fighter with 11 years of experience would.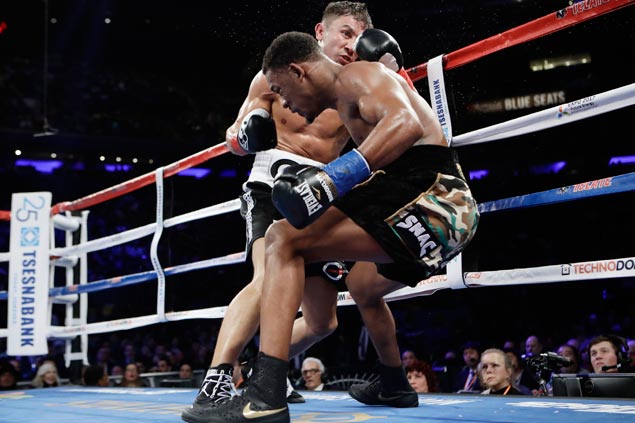 ADVERTISEMENT - CONTINUE READING BELOW ↓
Triple G knocked down Jacobs with a pair of rights and a glancing left in the fourth round, irrefutable evidence than he can still punch like a mule. Unless he gets beat, he is the best 160-pounder in the planet.
The fact that the blockbuster championship did not end in a knockout is not an incrimination of Golovkin's supposedly weakened power. It is an affirmation of Jacob's toughness.
A 30-year old Yankee from Brooklyn, Jacobs has more balls than a sporting goods store.
Dubbed as The Miracle Man, Jacobs was diagnosed with osteosarcoma, a rare form of bone cancer in 2011. He endured a six-hour surgery to remove a tumor that was wrapped in his spine and he soldiered through multiple rounds of radiation to keep the disease in remission.
Fear isn't in Jacobs' vocabulary, so there he was at The Garden courageously standing in front of a hail of Golovkin's shots and lived to tell about it.
The six-foot Jacobs had an inch and a half height advantage and he used his 73-inch reach as the trigger behind a stiff, educated jab that neutralized Golovkin's two-fisted bluster.
Jacobs was also bigger, weighing a reported 180 pounds when the bell rang, or a robust 20 pounds over the middleweight scale. Golovkin said he was 170 at fight night.
"He's my best opponent. He didn't panic, he didn't lose control. He's very good," Golovkin told USA Today.
In the end, as champions often do, GGG found a way to triumph. He hit Jacobs with 233 of 618 punches, a solid 38 percent clip. Naturally, Golovkin absorbed some shots, too, but he got whacked less and a lot less accurately at 32 percent (175 of 542).
Jacobs (32-2, with 29 KOs) landed more power shots, 144 to 126, but Golovkin's jabs kept coming like a nagging wife, hitting Jacobs on 105 of 356 attempts. In contrast, the taller Jacobs landed only on 31 of 170 jabs thrown.
Jacobs, a terrific warrior, proved to be an even better sportsman. Although unhappy with the outcome he was gracious in defeat and told the New York Post, "I felt like I won the fight. But I can't cry. I have to perform."
As for Golovkin, I love everything about the man - the naked confidence, the measured arrogance and the endless appetite for violence and mayhem.
Golovkin, Kazakhstan's most generous gift to boxing, belongs up there among the great middleweights of past generations.
He can get down and dirty with Bernard Hopkins.
He can box with the elusive Carlos Monzon.
And he sure has the stones to brawl with the ferocious "Marvelous" Marvin Hagler.