LOS ANGELES – Still 12 days to go before the megafight, but Manny Pacquiao on Tuesday wished his showdown with Floyd Mayweather Jr. would be tomorrow.
He can't wait to get it on.
"Para magkaalaman na," he said to the cheers of people around him just before he was to preside over an aborted international media conference call for his May 2 (May 3, Manila time) title match against the unbeaten American champion.
The confidence within comes from Pacquiao's belief that he has not been remiss in anything as far as his training and preparation for the fight is concerned.
"I have no worries," he said. "Dapat akong mag-worry kung hindi ako nag-training ng husto at kung hindi ako naghanda."
Pacquiao did the mitts for 10 rounds at the Wild Card gym in the final push is his training before he heads for Las Vegas next week leading to his showdown opposite the 38-year-old Mayweather.
[See Take closer look at Pacman's cool rides. See GALLERY]
He earlier had his morning workout at the mountainous Griffith Park, where the 'Pacman' was again joined in the run by a large entourage that dropped out one by one as he reached the famed 'Hollywood' sign summit.
Continue reading below ↓
Recommended Videos
Not even a slight case of cramps could slow him down as he completed the course in less than an hour.
"Fifty minutes niya lang kinuha. Mabilis 'yun," said longtime assistant trainer Buboy Fernandez.
After wrapping up the road work with his traditional crunch abs workout complete with Christian music blaring in the background, Pacquiao said he's not worried about losing the 12-round fight against Mayweather.
"If God is with you nothing is impossible. If God is with you he will take care of you," said the 36-year-old legendary fighter, a devout Christian.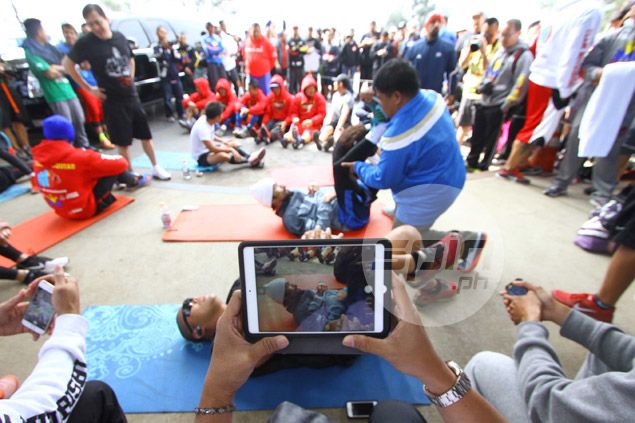 ALSO SEE:
Learn more about Mayweather strengths, weaknesses. See ALL ANGLES podcast
The champ meets his match. View VIDEO
Even in terms of 'Class A' imitations, Pacquiao shirts still a class unto itself
Price tag of ads on Manny Pacquiao's trunks nothing short of staggering
Pacquiao had a classic retort after Mayweather called him 'reckless'
Basketball talk a welcome distraction for Pacman after hard day at gym
Wondering why Pacquiao never got a shot at Olympic gold medal?
Advertising spots for megafight to cost an arm and a leg. Find out how much
Two Filipino fighters came close to fighting Mayweather. Find out what happened
Mayweather camp better not do anything foolish: 'Boy Kapre' will climb ring with Pacquiao