THE camp of Donnie Nietes denied the newly-crowned world champion plans to move up in weight again after a slight struggle with the scales prior to his title fight against Komgrich Nantapech of Thailand over the weekend.
Lead trainer Edito Villamor said Nietes is very much comfortable at flyweight and eased concerns after the three-time world champion went over the 112-lb. on the day of the weigh-in.
"Hindi naman siya nahirapan sa timbang sir," Villamor related to SPIN.ph from Cebu a day after Nietes, who turns 35 on May 13, won the vacant International Boxing Federation (IBF) flyweight crown following a unanimous decision win over his Thai opponent at the Cebu Waterfront Hotel.
"Sakto naman siya sa 112 lbs. Hindi pa nga siya nagpapawis nung umaga ng weigh-in."
[See Nietes wins third world title after gutsy win over tough Thai foe]
During Friday's weigh-in, Nietes tipped the scale at 112.4 lbs which surprised a lot of people since the longest reigning Filipino world champion has no prior history of weight issues.
Instead of shedding off the excess pounds, Nietes decided to just strip naked on his second attempt at the scale and made the weight right at the limit.
"It's just the underwear putting the extra weight," Nietes jokingly said afterwards. "It's nothing."
The following day, he proceeded to beat his 27-year-old Thai opponent, who proved to be a tougher nut to crack than most pundits had expected.
It was the third world championship for the pride of Murcia, Negros Occidental as he joins the great Manny Pacquiao and Nonito Donaire Jr. on the elite list of Filipino fighters to win titles in at least three weight division.
ADVERTISEMENT - CONTINUE READING BELOW ↓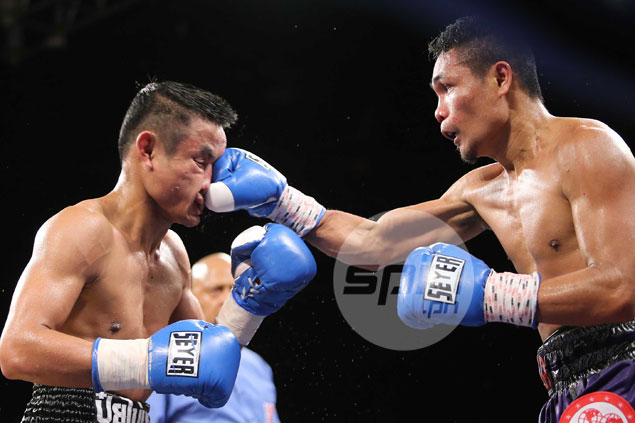 Villamor doesn't see Nietes, one of the most disciplined Filipino boxers today, going overweight again.
"Under na yun sir pag nagpapawis siya sa umaga," said the former world title challenger. "Twenty minutes na skip rope, Ok na."
ALA boxing president Michael Aldeguer has yet to bare the promotional outfit's plan for the top boxer under its stable.
A voluntary title fight could be an option as well as a unification bout with any of the champions from the three other major boxing bodies, including two-time Olympic gold medalist Zou Shiming, who holds the WBO version of the 112-lbs crown.
"Sa ngayon wala pa sir. Magpapahinga muna siya after that hard fight niya against the Thai," said Villamor.