NOTHING much has been heard about Manny Pacquiao the boxer of late, with Pacquiao the politician getting much of the attention - both wanted and unwanted.
But that is bound to change after a cryptic tweet from the fighting senator on Thursday that sounded like a hint at a #realboxingmatch against mixed martial arts superstar Conor McGregor in 2018.
Pacquiao on Thursday night posted a photo of McGregor and greeted him 'Happy Thanksgiving.' But what caught attention were the hashtags that came with the tweet, where McGregor was also tagged.
"Happy Thhanksgiving @TheNotoriousMMA Stay fit my friend #realboxingmatch #2018," said Pacquiao in a post on his Twitter page that predictably went viral.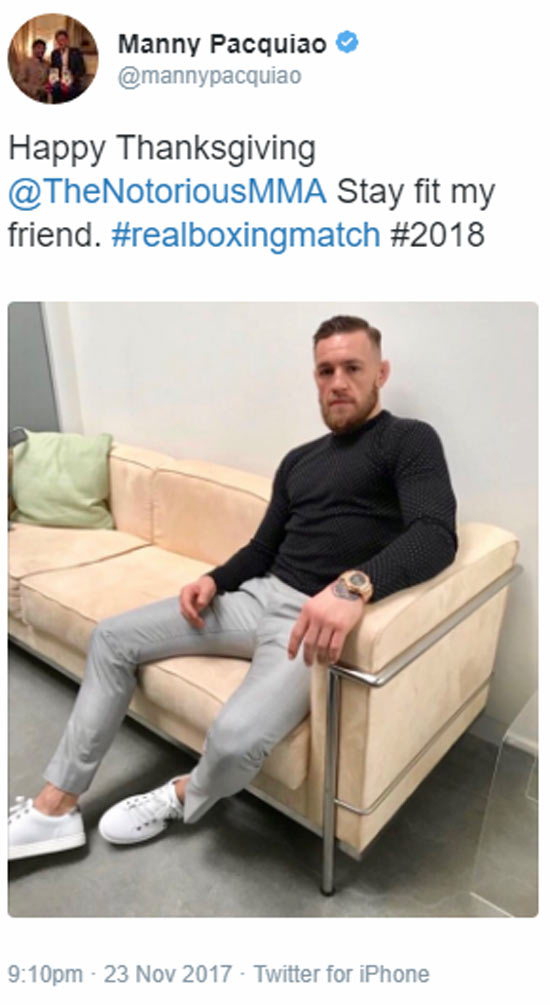 A bout between the two fight stars, if ever, should be good news for both.
Pacquiao, who will turn 39 on December 17, hasn't fought since losing a stunning decision to Australian underdog Jeff Horn. A rematch was also pushed back to next year.
On the other hand, McGregor's career has also been in limbo since he was stopped in the 10th round by Floyd Mayweather in a crossover boxing match last August 27.