CHICAGO - After initially being denied due to the flood of requests from all over the globe, I received an email a few hours ago confirming my media credentials to cover the Floyd Mayweather versus Conor McGregor fight this Sunday morning (Monday, Manila time) at the T-Mobile arena in Las Vegas.
I'll be wearing two hats for this event - a columnist here at SPIN.ph and U.S. editor for Fight News Asia. But I've never been this excited to double task, and at age 49, I think I have some fumes left in the tank.
When this unique pairing was first announced early last June, I dismissed it as mere spectacle that was sure to lure the suckers and allow both protagonists to rake some serious cash.
According to Keith Idec of Boxing Scene, Mayweather's take is at least $100 million while McGregor will pull north of $75 million, The cheapest ticket to watch the event live is $1,500 while a pair of floor seats can be had through the secondary market at a cool $164,000 each. Pay-per-view is $89.95 for standard definition and $99.95 for HD.
All the hype and box-office figures, however, cannot hide the reality that this match will be one-sidedly brutal in favor of Mayweather. Still, I refuse to label it as a circus act. I call it entertainment, which is exactly what sports is all about.
Continue reading below ↓
Recommended Videos
When the betting lines first opened for this junior middleweight tussle, Mayweather was a steep -2500 favorite, meaning you'd have to bet $2,500 on him to win $100. McGregor, meanwhile, was a +1100 underdog which meant a $100 bet on the Irishman pays $1100.
At one point, the odds dropped dramatically to -1100 and +700. And now, with just days to go before the opening bell, Mayweather is a mere -500 favorite while McGregor is just a +375 underdog.
Because combat sports requires only one lethal strike to score a quick, decisive ending, McGregor has more than just a fair chance of an upset, Add the facts that he is the taller, bigger, longer and younger combatant, then you have enough ammunition to dream of a rich payday at the casino sports book.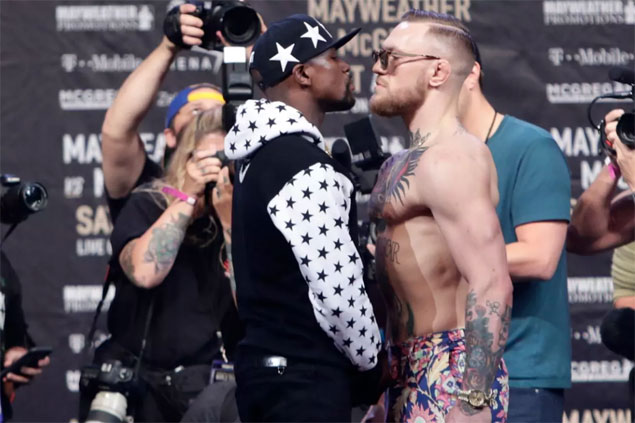 McGregor can't just be ignored as a fly on Mayweather's windshield. Conor is as ferocious as they come, winning 21 of 24 fights with 19 stoppages. The 5-foot-9, 155-pound pride of Dublin, Ireland can punch like a mule and kick like a horse.
But the UFC octagon is a long way from the boxing ring, and if you are picking the 29-year old McGregor to win, be prepared to nurse a broken heart when the smoke clears at the T-Mobile Arena.
Look, Mayweather is 49-0 with 26 KOs, unbeaten since turning pro in October 1996. He is an 11-time champion who has conquered five weight divisions and has beaten the best of his generation - Manny Pacquiao, Canelo Alvarez, Ricky Hatton, Miguel Cotto and Oscar dela Hoya, to name a few victims.
The 5-foot-8, 151-pound Mayweather isn't just a prize fighter, he is an artist. Accurate with his punches, elusive as a first love. He will turn McGregor's face into a bloody canvas, his 50th masterpiece.
"Greatness is for the brave. I am brave," McGregor told Hannah Storm in a yet to be aired Nightline episode.
Sadly for Conor, he will need more than just courage to blemish the immaculate record of arguably the best boxer to ever lace on a pair of 8 and 10-ounce gloves.