CHICAGO - For 17 prosperous years, Top Rank CEO Bob Arum and Manny Pacquiao enjoyed a marriage made in boxing heaven, a union between electrifying fighter and sage promoter, which will go down as the most successful in the history of the sport.
But as Grammy award-winning lyricist Tom Rice once serenaded in a song, "Nothing is so good it lasts eternally. Perfect situations must go wrong."
By most accounts, the Arum-Pacquiao tandem didn't go askew or messy in the end. It simply got divorced by time and circumstances. Some of which were beyond the control of both parties, others better left untold.
Last August, Arum flew to General Santos City to make a pitch for the Filipino senator to keep fighting under the umbrella of Top Rank. However, Manny's "asking price" got in the way of a possible deal.
"It's too much for me. I can't risk it all," Arum said while explaining that his company's current TV deal with ESPN requires him to also invest in other boxers. As neither side budged, the break-up was consummated.
Though the separation stings, Arum isn't bitter nor angry that Manny left the familiar nest and landed at rival Al Haymon's Premier Boxing Champions (PBC).
"Manny is a true friend. He lived up to his contract and we have a great personal relationship," Arum told Spin.ph in a mobile phone interview. A Harvard-educated lawyer, Arum believes that those who insinuate that he harbors ill feelings over losing Manny are merely "projecting" what they would feel if they were in his position.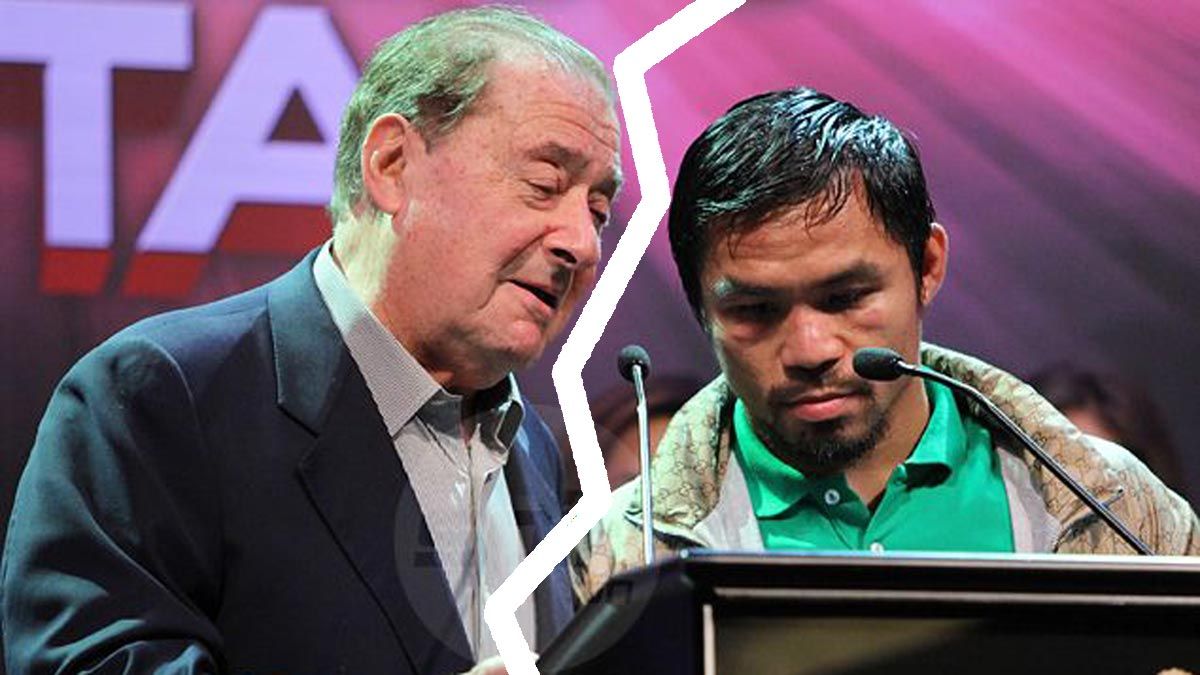 Arum is aware of some negative press he's gotten in the Philippines, which doesn't bother him a bit because most of the reporters he has dealt with in the past, are responsible and know their facts before diving unto a computer and whack the keyboards like jilted warriors.
"Nick (Giongco) and Abac (Cordero) have always been good and fair journalists," he said of the veteran scribes penning for the Manila Bulletin and Philippine Star, respectively.
Despite a two-year absence of boxing on U.S. soil, Manny reasserted his box office might. His dominance over Adrien Broner last January 19 at the MGM Grand Garden Arena in Las Vegas sold over 400,000 units on Showtime pay-per-view, upping his career total to 19.2 million units sold in 24 PPV offerings that, according to Forbes, earned $1.2 billion in revenue.
I probed Arum about his thoughts on Manny's emphatic WBA welterweight title defense and 61st triumph in 70 bouts.
"Well, he's not as good as he was at 30. But that's not a knock on Manny, it's just the nature of life and it's not fair to compare the Manny of old to the Manny at 40." Arum also pointed out that while Pacquiao's praise is deserved, Broner hasn't been exactly "a ball of fire" in his recent fights.
I asked Arum if Keith Thurman, whose name Manny has floated as a possible next foe, is a suitable opponent for Pacquiao.
"Manny is very intelligent. He knows better than I and it's up to him to make those determinations as to who to fight next."
How about Top Rank ace Terrence Crawford, arguably today's best fighter, pound-for-pound, I wondered.
"It's a bridge too far," said Arum, who founded Top Rank in 1966 and has promoted the creme de la creme - Muhammad Ali, Sugar Ray Leonard, Marvin Hagler, Roberto Duran, Floyd Mayweather Jr., Oscar Dela Hoya, Vasily Lomachenko and many more.
THE UNIVERSAL BELIEF is that the murderous punching Crawford (35-0, 24 KOs), who is at the peak of his powers at age 31, is too fast and too strong for Manny, who now carries considerable wear and tear from the 474 rounds he has battled in since turning pro on January 22, 1995.
In an interview with Fight Hub TV last month, Arum revealed that he "killed" a potential Crawford collision. "Forget about my emotions, I wouldn't wanna see him (Manny) take that kind of damage because it might affect the quality of his future life."
When the topic shifted to Pacquiao's profound and well-documented generosity, blistering acts of kindness that has fueled his distribution of millions to the less fortunate, Arum is all for it.
Hook. Line, And sinker.
"He once told me 'God will provide' and I can't argue with that because Muhammad Ali, who was also extremely generous, told me the same thing. Manny is not carousing in night clubs or anything like that. He is doing a lot of good work building houses and giving to charities."
Even with the nobility of his causes, many of which are funded by his boxing income, I asked Arum if Manny should still be fighting at this very late stage of his Hall-of-Fame journey.
"There are exceptions, such as Foreman who won the heavyweight crown at age 45 when he knocked out Michael Moorer in 1994. But as a general rule, no. It's a license to get hurt."
The late Jerry Krause, the GM of the dynastic Chicago Bulls of the 90s, invited both ridicule and controversy when he announced that "coaches and players don't win championships, organizations do."
In many ways, the dictum has a germ of truth in professional sports, including the hurt game.
While it's the boxers who give and take all the physical punishment, the promotional outfits labor hard behind the scenes to create championship fights and advocate for fighters to earn lousy rich compensation.
From Ali to Leonard to Pacquiao, and to whoever is next, stars come and go in boxing. Through all the years, Top Rank has stood the test of time.
To date, Top Rank has promoted 9,000 fights and 1,500 cards in 22 countries.
Arum wished he could have kept his promotional rights on Pacquiao's remaining fights, but he ain't losing sleep over it now that it's done with.
To paraphrase a line often attributed to Dr. Seuss, Bob Arum will not cry because his partnership with Pacquiao ended, he will smile because it happened.