PERTH, Australia – Jeff Horn has got a believer on his side.
Legendary Australian boxer and trainer Johnny Lewis is going for the Brisbane Olympian and former schoolteacher when he gets the shot of his life against eight-division world champion Many Pacquiao.
In a recent report here, Lewis said Horn will start as a heavy underdog but he believes the Aussie welterweight can shock the Senator-boxer in their April 23 bout.
"That's a fight I'd really like too see," Lewis said in the interview.
Lewis is a world-renowned Australian boxing trainer who is best known for working with six world champions, most notably Jeff Fenech and Kostya Tszyu.
Lewis said the Filipino legend has had his best days.
"I think it's going to be a bloke coming down in his career against a bloke very much going up," he said.
Horn has been tremendously at the short end of boxing discussions after the fight was announced last week. Only a few believe Horn can stand up against Pacquiao, even at an advanced age of 38.
Among those who think Horn would not stand a chance against Pacquiao was veteran boxing referee-judge Bruce McTavish.
Even Pacquiao himself has no idea who Horn is. He admitted in interviews he does not know anything about his next foe.
Continue reading below ↓
Recommended Videos
But Lewis had other things in mind.
"I think Jeff Horn's our best prospect out there at the moment and I think he's good enough to do it," he said.
"I like his work rate, I've seen him get knocked down and he's got straight back up, he's not just a front-runner. He can come from behind so I think he's a big chance against anyone."
[See 'Unconventional' Horn capable of shocking the world]
From a stunned bewildered challenger a week ago, Horn has slowly grown confident as days go by.
Horn expressed confidence he can cause one of the great upsets in boxing history.
"This is a dream come true," Horn told Grantlee Kieza of the Courier Mail, "and it's a fight I can definitely win."
Horn has his fight plan all cut out for the battle ahead.
"Manny is a lot shorter than me and I fight well against guys who are shorter than me and who are coming forward."
He also thinks the fight is happening at the right time. Despite logging only 17 pro fights compared with Pacquiao's 67, he said the fight was not coming "too soon."
Horn said that his youth, coupled with Pacquiao's age, will also play a big factor.
"I've got youth on my side. He's 38, I'm 28. He's got the experience but I think he's slipped a bit. He's still got very good movement and skills but he has dropped form just slightly and that means a lot at the top level," he said.
Before the fight shaped up, Horn had been lined up to face former world champion and recent Pacquiao victim Jessie Vargas. That would have happened before a fight with Pacquiao will be set late in 2017.
However, things changed and all of a sudden, the opportunity to face the Filipino world champ came when promoter Bob Arum put the proposed Pacquiao-Crawford fight in a backburner.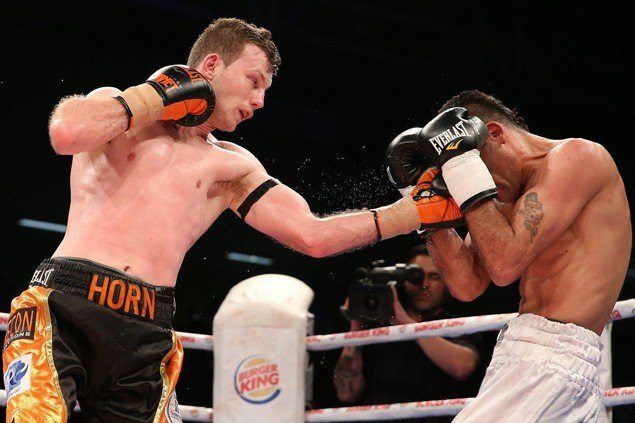 If many boxing experts thought Horn is just a pawn in the Pacquiao game, the Aussie fighter thinks otherwise. "I think he (Arum) sees it as a changing of the guard."
While Horn is struggling to keep his name in the same paragraph with Pacquiao, the fight promoters are also battling to keep the fight at home.
Brisbane's Suncorp Stadium is the frontrunner to host what could be the biggest world title fight held in Australia since Lewis-trained Jeff Fenech fought African great Azumah Nelson in Melbourne in 1992.
Lewis is backing up the fight to happen in Brisbane. "Everything's about where and when and I'd love to see the fight here."
Brisbane has to find the money to stage the fight with expected revenues and to pay for the world welterweight champ's multi-million-dollar purse. Pacquiao is reportedly asking more than $7 million for the Horn fight.