WITH his boxing career on the line, former two-time world title challenger 'King' Arthur' Villanueva has decided to take the long trip to Tijuana, Mexico to challenge this Sunday (Manila time) reigning World Boxing Council bantamweight (118 lbs.) champion Luis 'Pantera' Nery.
It was roughly six months ago when Villanueva went home empty-handed in his bid to become a world champion. Facing a hit-and-run artist in South African Zolani Tete, Villanueva struggled to find an offensive rhythm and lost a lopsided decision for the interim World Boxing Organization (WBO) bantamweight title. Shortly after the win, Tete was promoted to regular champion after Filipino Marlon Tapales was stripped of the crown for failing to make the weight against Japanese Shohei Omori. As can be deduced, Villanueva would have been crowned regular champ had he defeated the slippery Tete.
The loss to Tete was Villanueva's second failed attempt at a world title. In July 2015, Villanueva also dropped a technical decision to Puerto Rican McJoe Arroyo in a battle for the International Boxing Federation (IBF) junior bantamweight (115 lbs.) title.
Villanueva (31-2, 17 knockouts) has chalked up only one win since losing to Tete, stopping countryman Richie Mepranum in four lackluster rounds last September in Cebu. A listless Mepranum hardly put up a fight and quit on his stool.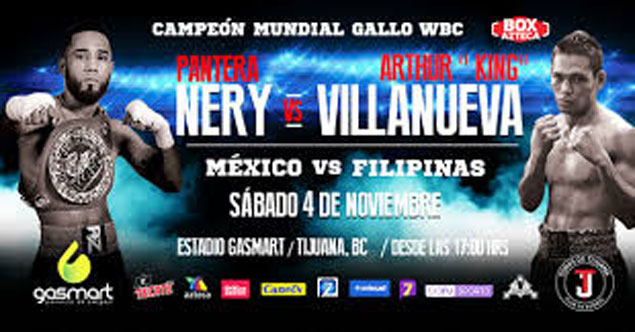 While Villanueva barely broke a sweat against Mepranum, he is expected to have his hands full opposite the undefeated Nery. Parading an immaculate record of 24-0, 18 knockouts, Nery was crowned WBC champion in August after bamboozling in four rounds Japanese legend Shinsuke Yamanaka.
Nery's WBC title, however, will not be at stake when he faces Villanueva. Nery's status as a champion was placed in limbo after he flunked a drug test taken just before the Yamanaka fight. Nery allegedly tested positive for Zilpaterol, a substance used to bulk up a cow. In his defense, Nery claimed the substance may have come from contaminated meat. As of this writing, the WBC has allowed Nery to keep the title but has ordered an immediate rematch with Yamanaka.
While his handlers negotiate the rematch with Yamanaka, Nery is looking at the Villanueva fight as a tune-up, but he may have another thing coming if the Filipino decides to go for broke.  Unlike Tete who is a hit-and-run artist, Nery does not shy away from a slugfest and this augurs well for Villanueva who has struggled against slippery boxers.
Nery, 22, is a whirlwind puncher who has knocked out his last five opponents, including the usually sturdy Mepranum. Nery owns a wicked left straight but his tendency to recklessly barge in makes him susceptible to counter shots. Nery's tendency to throw wild, swinging blows makes his defense highly suspect.
Villanueva is clearly a huge underdog, but give him credit for taking on a big name like Nery instead of continuing to feast on tomato cans. Though no world title will be at stake, an upset victory by Villanueva will clearly boost his rankings and likely earn him a third shot at the world title.