BRISBANE, Australia - This is one fight Manny Pacquiao where needs not only to look good, but very good indeed.
Michael Koncz, the longtime Pacquiao adviser and confidant, believes the Filipino boxing legend needs to score an impressive win over Jeff Horn in their title fight next Sunday if he is to remain relevant in the sport.
Just like anyone in the Pacquiao camp, Koncz believes Horn is the ideal foe who the reigning World Boxing Organization (WBO) welterweight champion can dominate inside 12 rounds.
Not just dominate, but knock out as well.
"Manny needs to make a statement. We can't go and have a 12-round decision," said Koncz on Sunday.
Pacquiao, 38, hasn't scored a knockout win since stopping Miguel Cotto in the 12th round of their WBO title bout in 2009, an unlikely scenario for a fighter considered among the most devastating punchers in the history of prizefighting.
Going to the fight against his 29-year-old Australian challenger, Pacquiao has registered a record of 59-6-3, with 38 KOs.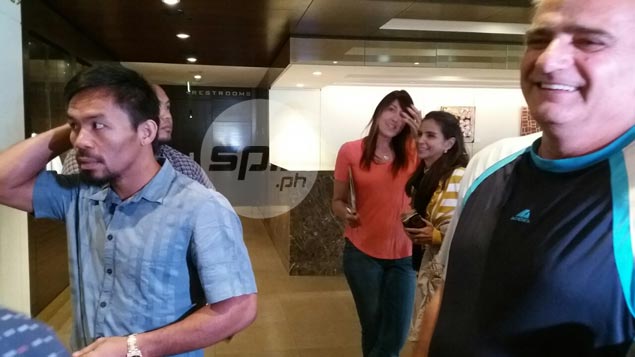 In contrast, Horn, the school teacher turned boxer, is unbeaten in 17 fights, but hasn't really fought someone near the caliber of Pacquiao.
That certainly weighs heavily in the champion's favor, according to Koncz, whose association with Pacquiao dates back to as far back as 2003.
"Jeff Horn is a great kid. Nothing personal against him, but he's not in the league of Manny, hasn't got the experince of Manny, probably has the heart of Manny," he said.
"But with all of Manny's experience and abilities, if we can't win this fight decisively and have a knockout, then Manny and I need to sit down and consider what we will gonna do in the future. So it's imperative we have to make a statement."
Despite the Filipino senator being an overhelming favorite to retain his crown, Koncz still believes Australian fans still likes Horn's chances of pulling off an upset in his first attempt at a world title.
At the moment, Pacquiao's adviser said 45,000 tickets have already been sold out, with the additional 5,000 to be made available in the market also expected to be bought out just before the 12-round match at the Suncorp stadium.
"It's gonna be a great fight whether it goes one round, two rounds, 10 rounds, I don't know because style makes fights," Koncz said.
"And Jeff Horn is here to fight."
Koncz, though, has no doubt Pacquiao still has the right tools to dispose of Horn and make that statement he's talking about.
"You know my goal is to get out of here within four to five rounds and go home," he said. "Manny trained hard and he knows we have to make a statement. And I believe you will see that statement in this fight."