LIKE a small town decorated with buntings eagerly awaiting a fiesta celebration, the entire Philippines has been adorned with anything that has to do Manny Pacquiao in the countdown to his super fight against Floyd Mayweather.
Images of Pacquiao are everywhere in Manila and elsewhere - from giant Edsa billboards to television screens, from ads in malls to signs in bars which will show his bout live around noontime on Sunday, when the world stops in this nation that has received very little good news of late.
According to a Social Weather Station (SWS) survey, no less than seven out of 10 Filipinos interviewed said they followed every bit of news about Pacquiao in the first three months of the year, when the world held its breath waiting for unbeaten Mayweather to finally agree to fight the only fighter many feel can beat him.
During that same stretch which was a good two months before the May 3 fight, news about Pacquiao was the third most followed news in media, next only to the visit of Pope Francis to the Philippines in March and the encounter in Mamasapano that left 44 men of the police's Special Action Force (SAF) dead.
ADVERTISEMENT - CONTINUE READING BELOW ↓
But unlike in January when people came out to the streets to welcome and get a glimpse of the Pope, most Filipinos are expected to stay indoors this time unless they're in Davao del Norte for the Palarong Pambansa, where thousands of participants will watch the fight together inside a stadium.
Otherwise, Filipinos will be inside their homes or movie houses or bars or public gymnasiums tuning in to a fight that is expected to define the career of Pacquiao - and hopefully uplift the spirit of this nation of 95 million people.
The Philippines sure could use a piece of good news.
Over the last few months, the unbelievable high created by the Pontiff's visit has been deflated by the fury over the death of the SAF men in Mindanao and all but eroded just days ago by the plight of a Filipina convicted of drug trafficking who came hours from an execution in Indonesia.
ADVERTISEMENT - CONTINUE READING BELOW ↓
By the time the 'People's Champ' climbs the ring on Sunday against the undefeated Mayweather in Las Vegas, the country it has left behind two months ago to train in the US is on a precipice.
But count on that anger and discontent to ease even for a brief moment with a Pacquiao victory. Suddenly traffic in the metro will be bearable, the fluctuating prices of gasoline will not be as irritating, and politicians once again riding on the beloved boxer's popularity will be tolerable.
So when we all wake up on Sunday to begin our day with a little prayer for Manny, let's all wish ourselves good luck.
We all can use a break.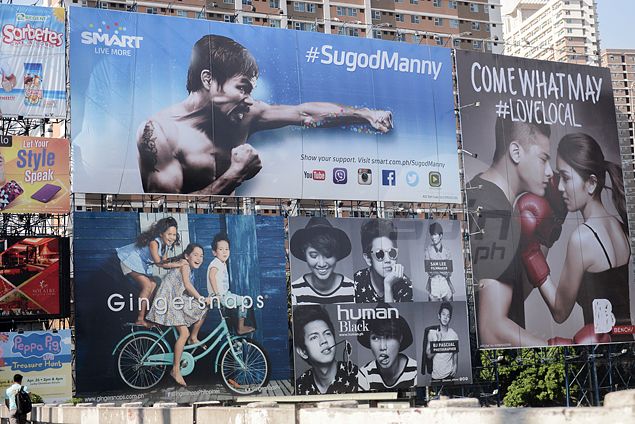 ADVERTISEMENT - CONTINUE READING BELOW ↓