PERHAPS no Filipino pool player, not even the great Efren "Bata" Reyes, has ever experienced what Chezka Centeno had gone through last week.
In a dream week at the women's World 10-Ball Championship, the Zamboanga native squared off with some of the biggest names in her sport – including defending champion Kelly Fisher of Great Britain – and gave a good account of herself. And oh, the Filipina is 13 years old.
The teenager lost as expected, 1-6, to Fisher in their elimination-round match. But she earned the admiration of Filipino pool fans at the Robinsons Galleria not only for the shots he pulled off but also for the determination and composure she showed while playing against the world-renowned Briton.
"Suwerte lang si Kelly Fisher," Centeno said in jest later.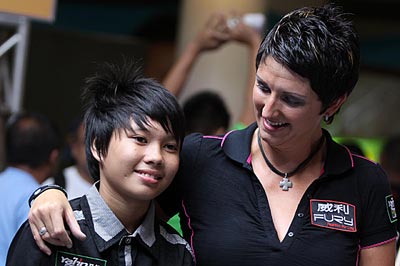 Asked if she was in any way intimidated by one of the world's finest cue artists, the teenager said in her native chavacano: "Hindi ako kinabahan, basta laro lang."
That she qualified for the main draw of the tournament is a major feat in itself for Centeno, who first played the sport at age six at the Lottis Billiards Center back home where his father, Fausto, had to stack cases of beer for her to step on to be able to reach for the cue ball.
Fausto said he saw the potential in her daughter at age eight.
"Na-obserbahan namin ng pinasali namin sa tournament, nananalo. Tinatalo niya mga matatanda. Doon na siya nagsimula at sinuportahan namin," said the 46-year-old.
That was the cue for the father to send Centeno to bigger tournaments.
The father-and-daughter team started by touring tournaments in their home province and Centeno first made national news when she competed in the last Philippine National Games this summer in Dumaguete City against national players.
Former world champion Rubilen Amit and Centeno crossed paths when the teenager got as far as the knockout stage of the world 10-ball by winning three of her five matches in the preliminaries. The phenom's dream run, however, was ended by Amit at the round-of-32 stage with a hard-earned 8-5 victory.  
"Matapang siya," said Amit of the teenager. "And she just wants to have fun when she's playing."
Billiards is definitely fun for Centeno. When it was not her turn to play, she was seen either taking souvenir pictures with the world's best cue artists or horsing around with friends and family who came to see her play.
But for the fun to last, her father said the kid needs all the help she can get, expressing the hope that the teen whiz's talent won't go to waste. "Sayang ang abilidad ng anak ko, kailangan lang siya ma-suportahan," said Fausto.
The talent is no doubt there. Billiards officials should take the cue and extend support.