FOR Efren 'Bata' Reyes and Francisco 'Django' Bustamante to gain a quarterfinal berth in the PartyPoker.net World Cup of Pool, they will have to do it against stablemate Alex Pagulayan as the living legends of pool face Canada in Thursday's round-of-16 action at the Robinsons Place in Manila.
Reyes and Bustamante will be facing Pagulayan, a Puyat Sports teammate who is representing his adopted country, in one of two matches in the third session of Thursday's schedule. Pagulayan is playing with John Morra.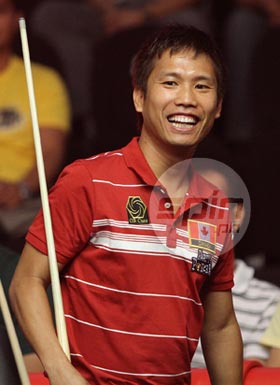 Reyes said that the odds of winning against Canada will once again be tough but nevertheless expressed his interest in facing his compatriot in Pagulayan.
Continue reading below ↓
Recommended Videos
"We are looking forward to facing Alex and John on Thursday," said Reyes in an interview with organizer Matchroom Sports right after their victory over Hong Kong last Wednesday night.
"The pressure will always be there, but we are up for the challenge," Reyes added.
Despite what looked like an easy 8-3 win over Hong Kong on Wednesday night, the 58-year-old Reyes said that he was still not satisfied with their breaks.
"If we play like that in our next match we can win. But our break is still no good. If we can get (good) breaks, we like our chances," Reyes said.
Reyes and Bustamante did struggled in the breaks but salvaged those miscues with nicely-drawn safety shots that kept the Hong Kong duo of Lee Chen-man and Kenny Kwok puzzled all match long.
"He controlled the cue ball really well. When Efren controls the cue ball, there's nobody who can beat him," said Bustamante.