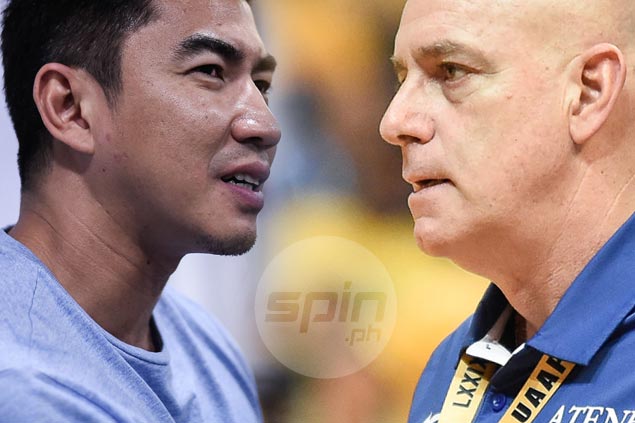 LA Salle and Ateneo begin their much-awaited encounter for the UAAP Season 79 seniors basketball crown on Saturday at the Mall of Asia Arena.
The top two teams in the elimination round emerged unscathed from tough Final Four pairings to arrange just their fifth showdown in the UAAP finals - and first since 2008.
Gametime is at 3:30 p.m.
The archrivals split their season series, with La Salle drawing first blood with a 97-81 win last October 2 and Ateneo bouncing back in a big way in the second round with an 83-71 decision last November 5.
As the Game One tipoff draws near, here are a few questions whose answers will more or less determine how the series will go.
Can 'Big Ben' get better looks this time?
The Cameroonian sensation came away with easy buckets against Ateneo defense in their first-round encounter, going 11-of-13 from the field. But the defense of Ateneo clamped down on Mbala in the second round when a three-, four-deep rotation led by Isaac Go made sure a wide body was always between Mbala and the basket at every turn, hounding him to a 5-of-13 shooting from the field.
Can Isaac Go bring his run of good form to the final?
Go had 10 points and seven rebounds against La Salle in the second round in a game that started the rise of the gentle giant into a key player for the Blue Eagles. Go also did it on defense, forcing Mbala to take tough shots. The 6-6 sophomore has carried over that form into the final stretch of the season including the Final Four, making him central to Ateneo's game plan in the finals.
Can Aaron Black play a bigger role in the title series?
The Blue Eagles lean heavily on their bench play, as shown in their second-round victory over la Salle where they outscored their Green Archers counterparts, 55-24. Leading the second stringers is Black, who had 16 points on 7-of-10 shooting from the field in the second round encounter. Black, however, has strangely been kept out of crunch time by Baldwin in both games of the Final Four win over FEU.
ADVERTISEMENT - CONTINUE READING BELOW
Can La Salle's defense cause mayhem against Ateneo?
One overseen factor in the Ateneo-La Salle games this season is Kib Montalbo's stingy defense. 'The Kib' averaged seven assists in the two games against Ateneo including a total of nine in the second-round loss. Against a La Salle team that labels its trapping defense as 'mayhem,' the Blue Eagles committed 30 turnovers in the first-round meeting which led to 33 easy points for the Green Archers. Ateneo, however, lessened their errors in the second round (26), while also forcing the La Salle to commit more (from 17 to 20).
Can Jeron Teng get his last hurrah?
Teng is determined to win a second UAAP title before he finishes his collegiate career. And what can be a more fitting way to finish his time at La Salle than a win over archrival Ateneo. Teng didn't play in the first-round meeting owing to an injury, but returned in the second round when he had 18 points in a losing effort. Teng dropped 25 points in the Final Four win against Adamson, but there's no question that his performance in the finals against Ateneo will be his defining moment. Is he up for it?