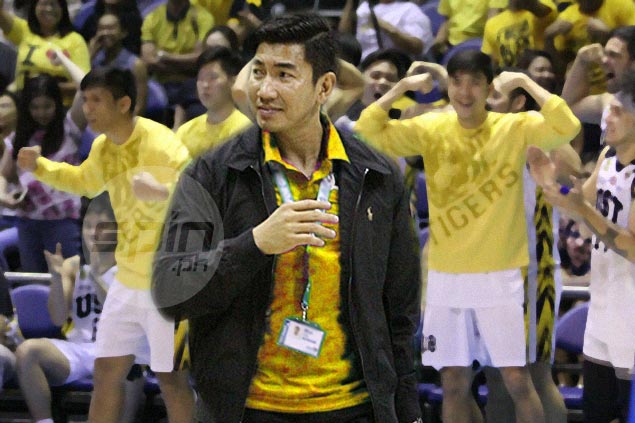 RUMOR: Aldin Ayo is leaving La Salle at the end of the UAAP season to coach University of Santo Tomas, taking over from Boy Sablan.
FACTS: Talk about Aldin Ayo moving from La Salle to UST at the end of the current UAAP season has been making the rounds in league circles for quite a while now, not dying down no matter how seemingly far-fetched the circumstances leading to the transfer may be.
The rumors, in fact, went into overdrive the past two days after several media outlets, quoting sources, reported that Boy Sablan has been fired as coach of the UST Tigers, which was no surprise, really, after two mediocre seasons in his time in charge.
What was a surprise was Ayo's name - of all people - suddenly cropping up as a possible replacement for Sablan at UST.
The mere thought of Ayo leaving La Salle in itself seemed improbable, considering he has led the Green Archers to a championship last season and back to the finals this year. That he has supposedly agreed to coach a UST side that will veritably start from scratch after Sablan's exit sounded more implausible.
Still, talk of an Ayo move from Taft to Espana continues to persist.
According to several insiders SPIN.ph has talked to, the rumors started at UST after a leadership change in the athletics' department brought in officials and backers with previous connections to Letran - another Dominican school which Ayo led to an NCAA championship in 2015.
The sources bared that some major backers, determined to turn the Tigers' fortunes around beginning next season, have vowed to bring in Ayo to oversee the transformation.
One source even went as far as say that regardless of what happens to La Salle in the finals, the plan is for Ayo to take over the Tigers' program immediately after the season.
As the rumor gained a life of its own, Sablan himself, wittingly or not, threw fuel to the fire when he talked about 'discipline and character' in his exit interview. Ayo, as you know, came under fire for a brawl that La Salle got into in a preseason game against Far Eastern University in Davao.
[See FEU claims Aldin Ayo attempted to choke Arvin Tolentino at height of Davao brawl]
"Itong mga batang ito, kahit saan 'to makarating maayos na tao ito, maayos na bata. Hindi makikipag-away, hindi magsisimula ng gulo. Yun yung gusto kong mangyari," said Sablan after the Tigers' lone win of the season against University of the East. "Yan ang itinuturo ko sa kanila: maging mabuting tao."
Was that a knock on Ayo? Go figure.
If sources from UST are to be believed, Ayo has already received the blessings on the move from no less than La Salle chief patron Danding Cojuangco, who was responsible for bringing him to the Taft campus after the coach's one-and-done season at Letran.
The information, however, was immediately denied by a high-ranking official of the La Salle team who insisted Ayo still enjoys the full trust and confidence of Cojuangco. In his own words, "Happy na happy si boss (Danding) sa kanya."
But at the same time, talk continues to persist that beyond top supporter Cojuangco, support for Ayo among La Salle alumni has considerably waned, no thanks to the controversies he and the team have gotten into, not least of all the Davao brawl.
Some La Salle insiders even interpret the move to bring in a coach outside of Ayo's staff to run the practices of the Green Archers' Team B as an affront on Ayo's leadership.
Still, sources from both sides doubt if an Ayo move to UST will ever happen, saying a lot of things need to fall into place for such an ambitious plan to fly.
One, Ayo looks a lock for the La Salle job so long as Cojuangco calls the shots in the team. Judging from the feedback, the Green Archers job is still Ayo's so long as he wants it.
Two, the UST rector - and no one else - has the final say on the appointment of the next Tigers coach. It is no secret that Ayo angered Letran officials when he bolted the Knights to coach La Salle in 2015. Will that be easy to forgive and forget for officials of another Dominican school?
Then again, no one believed Ayo's move from Letran to La Salle would happen until it actually happened. We tried contacting Ayo to either confirm - or end - this talk once and for all, but the controversial coach has not responded at posting time.
So in this case, guess we just have to wait and see.