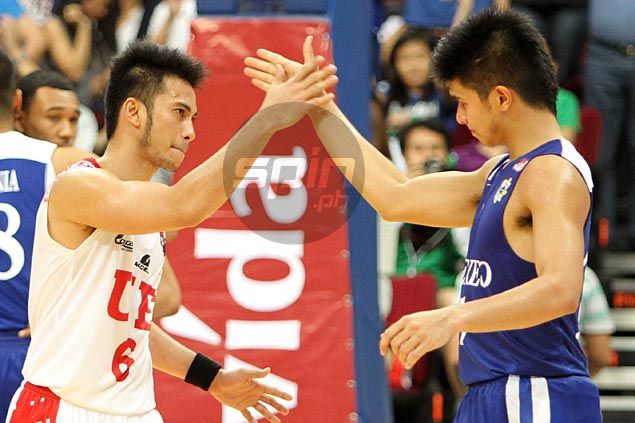 THEY figured in one of the most compelling shootouts seen in the UAAP in years, but judging from their faces they looked more like two good friends on a Sunday stroll in a mall.
While fans inside the Mall of Asia Arena were too tense to even take a seat, there was Ateneo star Kiefer Ravena and University of the East rival Roi Sumang smiling at midcourt and exchanging words, seemingly oblivious to the pressure and the attention.
But what a show they put on.
Ravena, forced to dig deep into his vast offensive repertoire for an Ateneo team that isn't as gifted offensively as the Blue Eagles' previous champion teams, scored 38 points to go with six rebounds and nine assists while going 19-of-25 from the free-throw line.
His 38 was a new career high, eclipsing the 29 he scored early in the tournament, and was the highest in the league in two years.
Not to be outdone was Sumang, the flamboyant UE guard who likewise reset his own career high with 30 points against the Blue Eagles, including a highlight-reel step-back three-pointer from the deep left corner in the final moments of overtime that initially appeared to be the turning point of the match.
But that was before Ravena answered with his own five-point cluster to put Ateneo back in the driver's seat, including his own three-pointer right on Sumang's face.
Watching the two versatile scorers, it was almost painful to know that one of them had to lose.
"Siguro kasi, ayoko lang magpatalo. Ganun din si Roi," said Ravena, when asked about the shootout that ended with the Blue Eagles pulling off a 93-91 win in overtime.