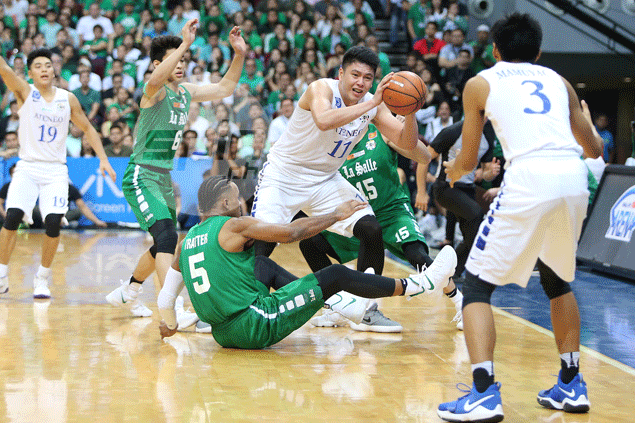 FOR the second straight game, Isaac Go showed the maturity and calmness one would expect from a grizzled veteran – and not from a 21-year-old. 
But if previous events were any indication, it's a fair assumption Go's wisdom is way ahead of his years. 
The young big man once again came up big in the clutch as he drained the backbreaking basket with 10.4 seconds to go in Ateneo's 76-70 Game One victory over La Salle in the UAAP Season 80 Finals Saturday at the Mall of Asia Arena. 
Three days removed from his heroics against Far Eastern University in the knockout semifinals match, Go was once again a reliable force in the endgame as he finished a Thirdy Ravena feed underneath, absorbed contact, and completed a three point play to give the Blue Eagles a six-point cushion.
And just like in the match against the Tamaraws, Go showed little emotion - if any – after making the game-clinching play. That's all the more impressive considering he missed the go-ahead basket against the same team roughly two weeks ago.
"It's exciting, yes, but the reason that I was not able to celebrate was that first, the game was not finished yet -- it was not a buzzer-beater. Second, was it was Thirdy who found me open. I have to give credit to Thirdy," said Go after the match. 
"Third, at the end of the day, it was two points for Ateneo. I don't look at it as two points for me. I look at it as a whole that Ateneo got the two points," he added. 
Go was also as impressive on the defensive end as he was part of a daunting Ateneo defensive scheme on Ben Mbala, which held the back-to-back MVP to a UAAP career-low eight points.
With Mbala's bounce back game almost cast in stone in Game Two, the pressure falls on Go and the like to hold the fort anew on an impending rampage by the La Salle import. 
ADVERTISEMENT - CONTINUE READING BELOW
The pressure is there for Go, but it ends the moment he steps on the court and starts to bang bodies with Mbala.   
"There's always pressure but we can't pressure ourselves because it's a game," Go continued. 
"There's no external pressure that will force us to change the way we play. Internally, we just have to push ourselves."