THE first week of the NCAA season has churned out a couple of surprises, rocking the formcharts early. But with a closer look, let's try to weed out the proverbial flash-in-the-pans and try to determine which among the prevailing trends will most likely last through the season.
New breed of Stags
San Sebastian's transition to the post-'Pinatubo Trio' era has not been as rocky as anticipated.
The departure of Calvin Abueva, Ian Sangalang, and Ronald Pascual has given rise to a new group of players led by CJ Perez, Bradwyn Guinto, and Leodaniel de Vera who looked capable enough to carry the torch for one of the most successful teams in league history.
The athletic Perez remains a diamond in the rough, but he has shown that he can contribute statistics across the board. Guinto, the Australia-raised big man, has put up two straight double-doubles, while De Vera has emerged as the Stags' top long-range threat.
There, too, is lefty playmaker Jamil Ortuoste, who has been a revelation by averaging 22 points in his first two games for Topex Robinson's rejigged squad.
Still, this new group looks very much a work in progress and may need a few more months, if not a season, of seasoning before recapturing the Stags' place among thetop title contenders.
Tame Red Lions
The four-time defending champions looked far from invincible in the early stages of the tournament.
After barely escaping host College of St. Benilde, 71-70, in their opening-day game, the Red Lions surrendered a shocking 66-70 decision to last year's cellar-dweller Lyceum in their next game. It marked the first time the school split its first two games of the season over the last seven years.
The shaky start was alarming enough that coach Boyet Fernandez said he needed to talk to his wards and ask them "what they really want." It's definitely not the way he wanted his reign at San Beda to begin.
The Red Lions, however, are too good to be counted out this early. Once Fernandez finds a way to connect with the players, and stars like Baser Amer finally hit their stride, expect San Beda to be right there fighting for another championship in the last few games of the season.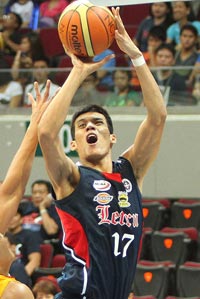 'Dark Knight' rises
The enigmatic senior center, who has definitely put his controversial past behind him, insists he's not looking for his shot, but he's now averaging 15 points, 19 rebounds, and four blocks for the Knights - numbers that show he's arguably the best big man in the country's oldest collegiate league.Known more for his defensive prowess the past few years, Raymond Almazan has developed into a reliable scoring option for Letran. Knights coach Caloy Garcia even gave the gangling slotman from Bataan the license to take open three-point shots (he has now gone 1-of-3 from beyond the arc).
If his progress continues, expect Almazan to be among the top prospects in the next PBA draft - and count on the Knights to be fighting for a championship at season's end.
Nambatac is the real deal
No Kevin Alas? No problem. Arguably the top NCAA prospect to come out of high school, Rey Nambatac is living up to the hype early this season.
Despite being the youngest player in the Knights' roster, the 19-year-old combo guard from Cagayan de Oro is showing maturity beyond his years as he posted norms of 13 points and 6.5 rebounds in his first two games.
Nambatac is not a lights-out scorer like Alas, but his play will largely dictate how far the Knights will go this season.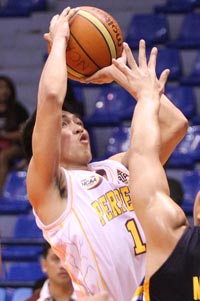 Lanao's top gun
The departure of gunner Jet Vidal was supposed to diminish Perpetual Help's offensive production this year, but the addition of Juneric Baloria has made up for the loss of 'Jetsanity.'
The scrawny southpaw guard from Lanao del Norte was the Altas' second-leading scorer in the Filoil Flying V Hanes Premier Cup and had 12 points, including two triples, in their opening game - a blowout win over Emilio Aguinaldo College.
It remains to be seen, however, if Baloria can sustain his high-level play throughout the season. He better. Aric del Rosario's Altas need him badly to challenge the league's traditional powers for the title this season.
JRU's renaissance men
It's no secret that the star-less Heavy Bombers rely heavily on their suffocating full-court defense to win games. But with Paolo Pontejos and Philip Paniamogan in tow, the Bombers now have to capable scorers whom they can turn to at crunch time.
Pontejos, a former San Beda benchwarmer, and Panimogan, who was not even part of coach Vergel Meneses' lineup last year, are trying to make the most of their second chances. And they're giving the JRU Bombers a bit of respectability in what should be a trying season ahead.