A WEEK after monsoon rains caused disastrous flooding in the metro, a handful of players took the NCAA men's basketball league by storm with outstanding performances. Surprisingly there were those who hit a dry patch as well beginning with two members of San Sebastian's dreaded 'Big Three,' who inexplicably became big disappointments in a game the Stags had no reason to lose.
Who's hot?
Byron Villarias
One of the league's silent assassins, Villarias has began to make his presence felt. The 6-foot shooting guard from Bacolod exploded for a career-high 29 points to go with three rebounds, three steals and two assists in Jose Rizal's 101-83 rout of Letran last Monday, enabling the Bombers to grab a share of the lead with a 7-2 record by the end of the first round. Coach Vergel Meneses' "most consistent player" is certainly making the most of his remaining time in his second and final year with the school.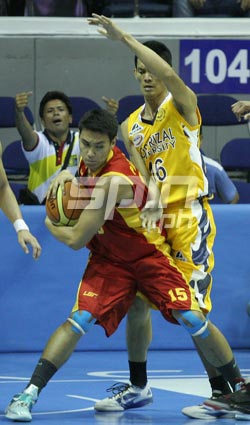 Mike Parala
The lanky big man from Laguna has once again emphasized his emergence as an offensive threat for Mapua this season after registering 21 points, 13 rebounds, and three block shots in the Cardinals' 68-49 victory over Arellano. The 6-foot-4 Parala, who averaged just 4.8 points per game in Season 87, now averages 14.7 points through nine games.
San Beda's defense
The league's best defensive team turned it up a notch after the Lions held archrival Letran to only 43 and Lyceum to 47 points. The Lions are just allowing the opposition 61.3 points per game as they jacked up their record to 8-2 (win-loss) and remained on top of the standings by the end of the first round.
Igee King
After failing to live up to lofty expectations as a highly touted rookie for Emilio Aguinaldo last year, King finally broke out of his shell. The son of former PBA great and defensive whiz Abe King tallied 17 points - on 7-of-10 shooting - and five rebounds to lead the Generals to a 77-67 upset victory over powerhouse San Sebastian.
Raymond Almazan
After almost two months of absence, the 6-foot-7 Letran center surprisingly reappeared in the Knights' game against the Red Lions. Citing an old fracture on his right ankle and dengue fever for his mysterious disappearance, the 23-year-old Almazan has vowed to gain back the trust of the team that needed a huge frontline boost.
Who's not?
Letran's frontline
The Knights showed how vulnerable they are without Almazan after losing two blowout games against Jose Rizal University and San Beda. The team's woes were even compounded in their second game of the season as it also missed the services of Jonathan Belorio after the shot-blocking power forward was suspended for hitting the Bombers' Ivan Camasura with an elbow near the head.
Jam Cortes had all he can handle after playing at center full-time.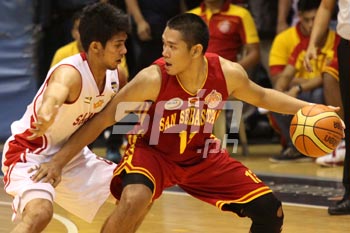 Ronald Pascual and Calvin Abueva
Just two days after firing 28 points built on seven triples in the Stags' win over San Beda, Pascual wound up with just 10 points on an atrocious 1-of-16 shooting from beyond the arc in their shock loss to Emilio Aguinaldo College. Another member of the Stags' 'Big Three,' Calvin Abueva, was similarly a letdown. He had nine points and eight rebounds against the lowly and undermanned Generals, after coming in averaging 19.3 points and 16.5 boards this season.
Lyceum's role players
The Pirates have been getting ample offensive production from their top three players in Chris Cayabyab, Rich Guevarra, and Shane Ko, but they have yet to gain significant contributions from their role players especially their big men. The end result had the Pirates losing by 30 points to the San Beda Lions.