ON a strange week in the NCAA that saw a 'Beast' run amok, trigger-Happi Generals finally hit the mark and a 6-foot-7 Knight -- yes, someone that big -- go literally missing, let's pay tribute to the college league's top performers and give the underachieving a little wake-up call.
Who's hot?
Calvin Abueva
The league's reigning MVP brought the house down last Monday after he damaged one of the rims at the Arena in San Juan during warmups. After San Sebastian's game against Emilio Aguinaldo College was delayed for almost two hours, 'The Beast' spearheaded the Stags in their 94-93 win over the Generals by tallying 29 points, 18 boards, and seven assists -- a monster performance that surely boost his stock in the coming PBA rookie draft.
San Beda Red Lions
The defending champions flaunted their deadly form over the past week. Finally having a complete lineup with 6-foot-8 Ola Adeogun in the fold, the Lions went a perfect 2-0 the past week. They leaned on their veterans to win against Mapua by 12 points and then turned to their league-leading defense to beat Jose Rizal University by 25 points, in the process limiting the misfiring Bombers to just 37 markers.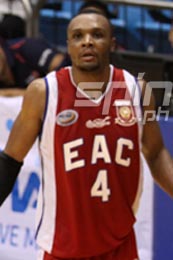 Cedric Happi Noube
After seven successive defeats, the Generals finally savored a 'Happi ending' last week, thanks to their Cameroonian import. The 6-foot-7 Happi put together a dominant performance highlighted by 18 points, 21 rebounds, five assists and two steals in a convincing 76-61 win over College of St. Benilde last Saturday that allowed the Generals to at least end their first-round campaign on a positive note.
Who's not?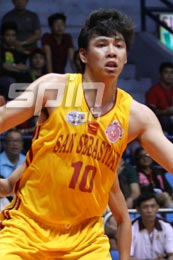 Ian Sangalang
One-third of San Sebastian's vaunted Big Three, Sangalang was sidelined in the Stags' win against the Generals after he unfortunately slipped on the floor during his squad's practice the previous day. He's expected to be back in the next two weeks, though, in time for the second round.
College of St. Benilde Blazers
No thanks to their inconsistent play, the Blazers dropped two winnable games last week. Against the Bombers last Monday, they squandered a huge 17-point lead in the third quarter and lost by five points. Then they lost by 15 points to the league's cellar-dwellers in the Generals last Saturday while playing without star guard Carlo Lastimosa and Jonathan Grey, who were suspended by the school.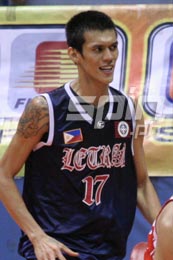 Raymond Almazan
A member of last year's mythical team and one of the league's best big men, Almazan has mysteriously disappeared from the team. After playing in Letran's first two games, the 6-foot-7 center was nowhere to be found in the team's next five games. "He's literally missing in action," said Knights coach Louie Alas, who said he has talked to Almazan's wife, who likewise had no idea about his husband's whereabouts.