UNIVERSITY of Santo Tomas and Far Eastern University ended their first rounds on a high note, nabbing wins Saturday in the UAAP Season 82 women's basketball tournament at Mall of Asia Arena.
UST used a stellar second half barrage to down La Salle, 76-47, for its third straight win.
Last season's MVP Grace Irebu once again got things done on the paint as she fired 36 points and 20 rebounds for the Golden Tigresses.
Her brilliance allowed UST to wiggle out of a tight 33-30 halftime affair, leaning on a 22-7 third quarter to pull away, 55-37, and cruise to the 29-point rout.
"I think it was yung defense namin. We contained La Salle in the third and fourth," said coach Haydee Ong. "I told the ladies na whatever happens to this game, win or lose, the effort should be there."
But it wasn't all Irebu, as the Golden Tigresses' supporting cast also came to play much to the delight of Ong.
Lon Rivera poured 10 points and three rebounds, as Tacky Tacatac scored all of her nine points in the third quarter, while hauling down five boards.
"Sinabi ko sa kanila na medyo nakukulangan pa ako sa ibang players namin. We cannot win by just Grace, Grace is not UST. UST is the whole team and everybody should contribute. In this game, na-prove naman ng players na we are the UST team," said the stern mentor.
Continue reading below ↓
Recommended Videos
UST rose to a 5-2 record to move up to solo second, yet Ong acknowledges that the journey just gets harder from here.
"Of course, we're happy that we're in the upper bracket now, but the second round will be a tougher round for us so we have to work harder to stay in the Final Four," she said.
Kent Pastrana led La Salle with 13 points and five rebounds, but she also committed six turnovers to her name.
Bennette Revillosa also scored 13 points and grabbed four boards for the Lady Archers (3-4).
FEU, meanwhile, averted a 21-point meltdown and repulsed Adamson, 73-67.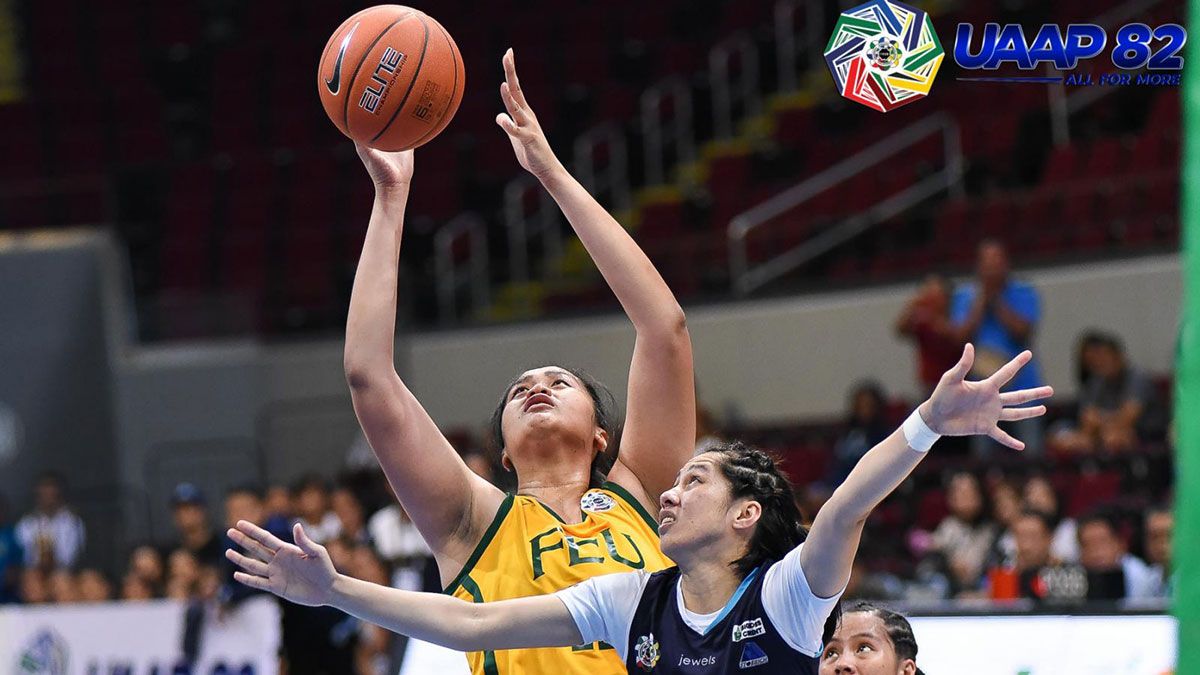 Clare Castro led the Lady Tamaraws with 28 points, 17 rebounds, and five blocks as they survived a furious third quarter rally from the Lady Falcons and even fought back from an eight-point deficit, 65-57, with 6:14 left in the game.
Her inside presence allowed FEU to come back and she even tied the game at 67 with a short stab with 1:15 remaining.
There, the Lady Tamaraws' experience prevailed with Jay delos Santos scoring the go-ahead layup with 16.1 seconds remaining as the Lady Falcons committed three costly turnovers in the endgame to halt their rally.
"Yung experience nagkatalo. Mas veteran ang players ko," said coach Bert Flores. "Sabi lang namin, kailangan mapunta yung bola sa mismatches. Maganda ang puso nila sa endgame."
Valerie Mamaril notched 15 points, six rebounds, and three assists for FEU, while Fatima Quiapo got nine points, six boards, and six dimes in the victory.
Delos Santos added five points, three rebounds, and three assists to make up for the offensive foul called against her with 29.2 ticks left.
"Nakabawi naman siya para sa amin," said Flores as the Lady Tamaraws snapped their two-game skid.
The win leveled FEU for the second spot at 5-2, in the same breath as UST.
"Kailangan mamuhunan ka sa first round kasi sa second round, mahirap na. Masaya ako sa lagay namin ngayon," Flores said.
Adamson, meanwhile, dropped to 4-3 in the standings after incurring back-to-back defeats to end the first round.
Mar Prado paced the Lady Falcons with 21 points, 15 rebounds, and four steals, as Lhyn Bilbao got a double-double of 14 points and 13 boards.
The Scores:
First Game:
UST 76 -- Irebu 36, Rivera 10, Tacatac 9, Soriano 5, Ferrer 4, Panti 4, Portillo 4, Gandalla 2, Sangalang 2, Callangan 0, Gonzales 0, Javier 0.
LA SALLE 47 -- Pastrana 13, Revillosa 13, Sario 6, Paraiso 5, Torres 3, Camba 2, Del Campo 2, Okoli 2, Quingco 1, Binaohan 0, Castillo 0, Dalisay 0, Espinas 0, Malarde 0.
Quarters: 20-12, 33-30, 55-37, 76-47.
Second Game:
FEU 73 -- Castro 28, Mamaril 15, Quiapo 9, Antiola 7, Abat 5, Delos Santos 5, Jumuad 4, Adriano 0, Bahuyan 0, Bastatas 0, Payadon 0, Vidal 0.
ADAMSON 67 -- Prado 21, Bilbao 14, Catulong 12, Araja 9, Dampios 6, Mendoza 3, Flor 2, Anticamara 0, Ornopia 0.
Quarters: 26-10, 40-27, 51-54, 73-67.