UNIVERSITY of Santo Tomas routed University of the East, 65-26, in the UAAP women's basketball tournament on Wednesday at the UST Quadricentennial Pavilion.
The Tigresses limited the Lady Warriors to five points in the opening frame and two points in the second quarter.
UST forced UE to a horrid 9-of-58 from the field, a measly 16-percent clip.
Not helping the Lady Warriors' cause was them going just 5-of-17 from the stripe and them committing 36 turnovers, paving the way for the Golden Tigresses to enjoy a lead as much as 43 points in the game, 65-22, with 1:45 left.
"Yung playmaker nilang si (Jearzy) Ganade has been scoring in double digits, so yun yung kinailangan naming bantayan," said coach Haydee Ong said of the magnificent defensive outing UST had.
All but two players scored for the Golden Tigresses, with reigning MVP Grace Irebu leading the way with 12 points and 15 rebounds, to go with two steals.
Jeorge Panti added 11 markers, while Tacky Tacatac chipped in 10 markers.
The win lifted UST to a 7-2 slate to keep solo second and gain a one-game cushion over Far Eastern University in the standings.
"We're taking it one game at a time. Dikit-dikit kami. Hopefully, we will get one more win against FEU on Sunday," said Ong.
Continue reading below ↓
Recommended Videos
Princess Pedregosa led UE (1-8) with seven points and nine rebounds, as main scorers Ganade and Tin Cortizano were limited to five and three markers, respectively.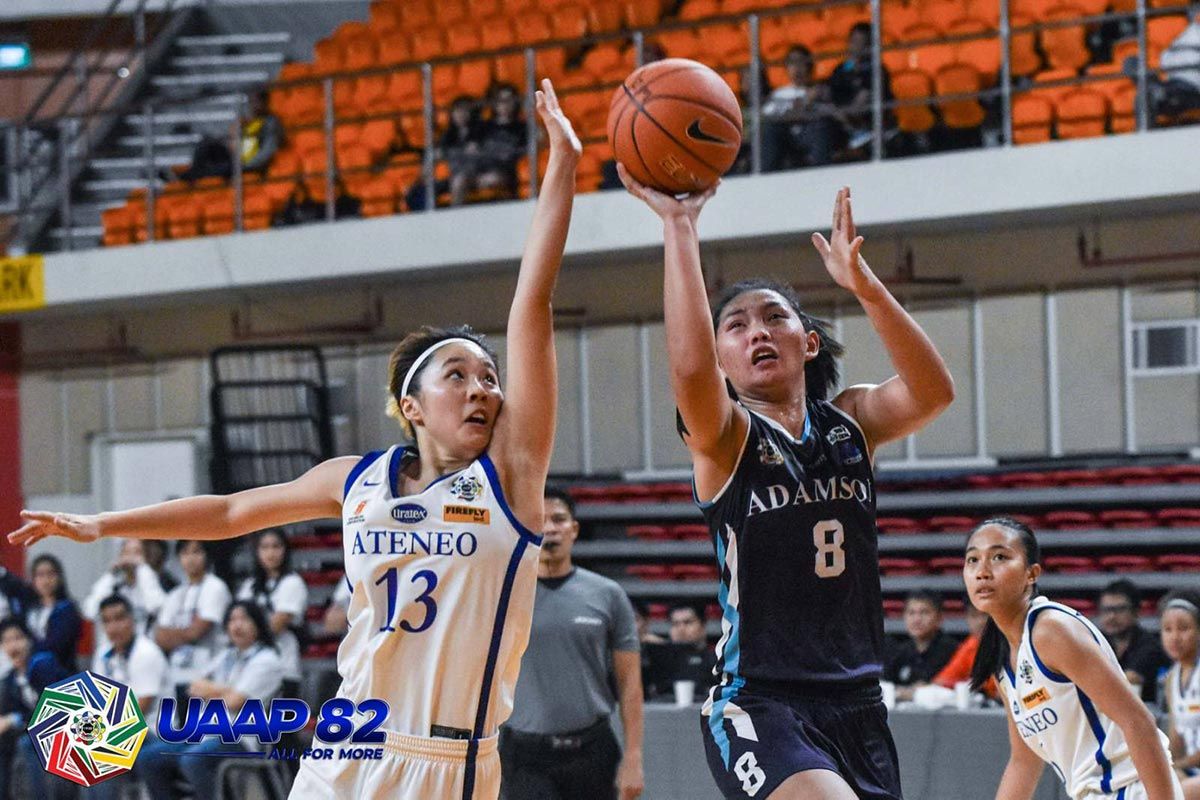 In the second game, Adamson averted a huge meltdown, beating Ateneo, 65-60.
Mar Prado sparked a 16-4 run in the final period as the Lady Falcons took a 62-51 lead with 3:43 left.
The Lady Eagles, however, had one more run in them as Alyssa Villamor and Joanne Nimes drained back-to-back three-pointers before a Hazelle Yam basket cut the lead to two points, 62-60 with seconds remaining in the match.
But their rally went for naught as Lhyn Bilbao nailed the marginal free throws to the Lady Falcons to their sixth win in eight matches, and keep a stronghold of the third spot in the standings.
Prado finished with 25 points, 13 rebounds and three assists as Bilbao also had a double-double with 16 points and 19 rebounds.
Villamor paced the Lady Eagles with 20 points, six rebounds and four assists in the defeat, their sixth in seven games to fall to a 3-6 slate.
The scores:
First Game
UST 65 - Irebu 12, Panti 11, Tacatac 10, Portillo 8, Rivera 8, Callangan 4, Gandalla 4, Ferrer 2, Javier 2, Sangalang 2, Soriano 2, Casiano 0, Manuel 0.
UE 26 - Pedregosa 7, Terrinal 6, Cuadero 5, Ganade 5, Cortizano 3, Fernandez 0, Nama 0, Noquil 0, Ordas 0, Paule 0, Tinio 0.
Quarterscores: 22-5; 37-7; 47-16; 65-26.
Second Game
Adamson 65 - Prado 25, Bilbao 16, Araja 9, Catulong 5, Dampios 5, Ornopia 3, Flor 2, Anticamara 0, Mendoza 0.
Ateneo 60 - Villamor 20, Yam 16, Guytingco 10, Joson 5, Newsome 4, Nimes 3, Moslares 2, Cancio 0, Chu 0, Payac 0.
Quarterscores: 22-15; 34-25; 46-49; 65-60.