UNIVERSITY of Santo Tomas pounced on La Salle with a dominant 71-49 win in the UAAP Season 82 women's basketball tournament Wednesday at the UST Quadricentennial Pavilion.
It was an important win for the Growling Tigresses as they went up to 10-3, booking their slot in the Final Four.
"I'm just happy," said coach Haydee Ong. "I just told them that what we trained in the last two days is yung depensa namin. So yung adjustment namin nung nangyari nung first half, nagawa naman namin."
UST leaned on their twin towers in Grace Irebu and Tantoy Ferrer, who finished with 13 and 12 points, respectively. Reigning MVP Irebu grabbed 16 rebounds while sophomore Ferrer added seven boards.
Leading by just 10 at the half, 38-28, the Tigresses allowed just four points in the third canto to turn the game into a rout. with a 52-32 lead entering the payoff period.
Ferrer put on the finishing touches in the game as UST led by as much as 32 points in the contest.
Floor general Ruby Portillo also scattered 12 points, four rebounds, three steals, and an assist for UST.
It was a tough loss for the Lady Archers as they fell to 6-6, half-a-game behind fourth-running Far Eastern University.
Continue reading below ↓
Recommended Videos
Maureen Okoli was the lone La Salle player in double digits in points with 11, along with eight rebounds.
Leading Rookie of the Year candidate Kent Pastrana was limited to just 15 minutes in the game. She only had six points on four attempts.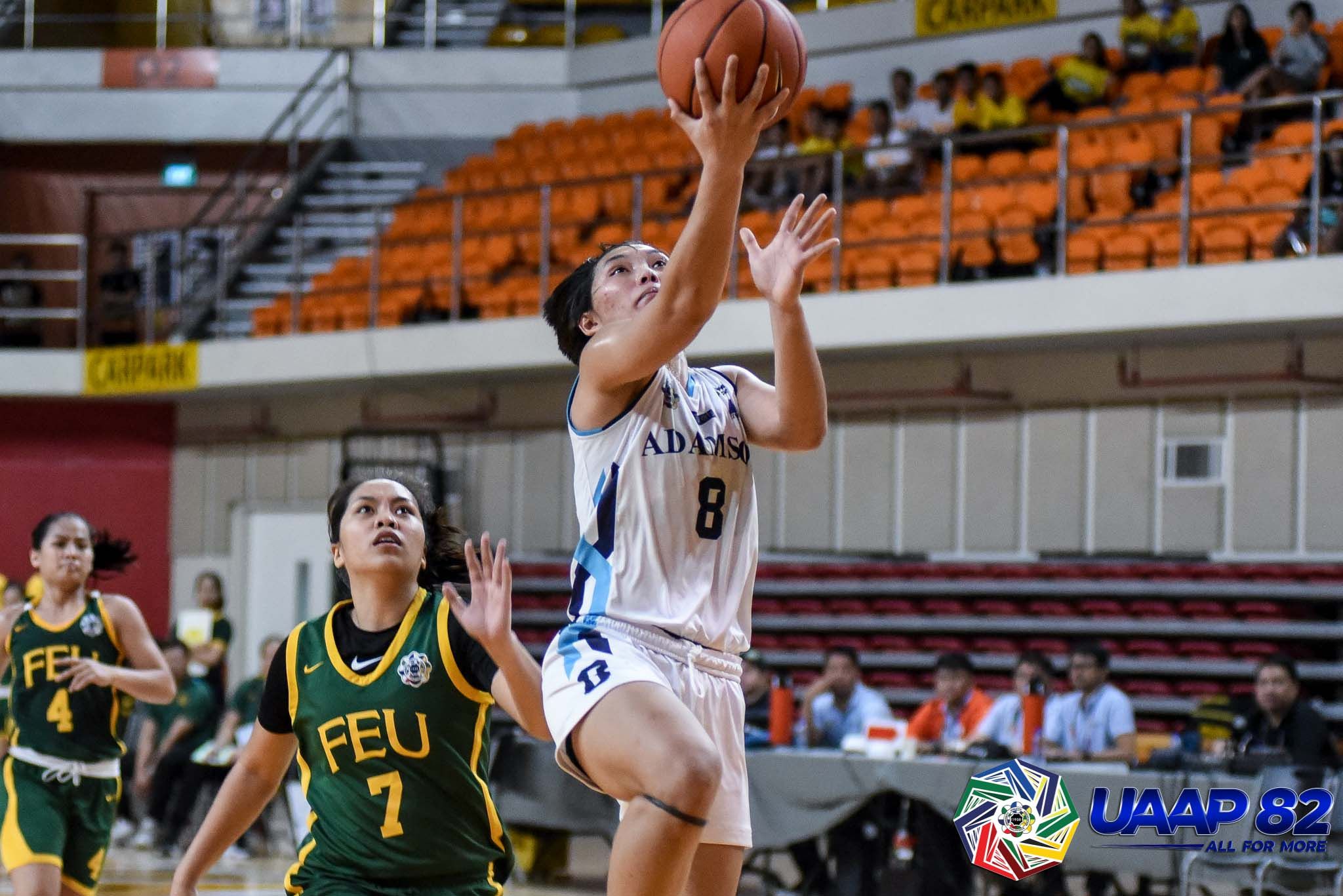 Meanwhile, Adamson University rose to solo third after escaping Far Eastern University, 61-59.
The Lady Falcons picked up back-to-back wins to rise to 8-4 -- one-and-a-half games ahead of the Lady Tamaraws, who lost their second straight game.
Mar Prado followed up her 40-point output last Sunday with 26 points and 10 rebounds.
Complementing her was Lhyn Bilbao, tallying 21 points and eight rebounds.
And the duo was pivotal in Adamson's fourth quarter rally.
Up by just three, 51-48, with exactly five minutes left, the Lady Falcons went on a 10-4 run capped by a Prado trey to gain a 61-53 cushion with 1:39 remaining.
Clare Castro and Val Mamaril tried a late-game hijack but the latter's layup with 0.5 ticks left fell short.
Adamson's defense held FEU down to just 30-percent shooting.
After being limited to just two points in the first half, Castro scored 13 in the second half. She also hauled down 17 boards. Mamaril added 14 markers.
The Scores:
First Game:
UST 71 -- Irebu 13, Ferrer 12, Portillo 12, Gandalla 7, Callangan 6, Panti 6, Tacatac 6, Rivera 5, Soriano 4, Gonzales 0, Javier 0, Sangalang 0.
LA SALLE 49 -- Okoli 11, Dalisay 8, Pastrana 6, Quingco 6, Torres 5, Binaohan 4, Paraiso 4, Sario 3, Revillosa 2, Jimenez 0, Malarde 0.
Quarters: 20-11, 38-28, 52-32, 71-49
Second Game:
ADAMSON 61 -- Prado 26, Bilbao 21, Flor 12, Dampios 2, Anticamara 0, Araja 0, Catulong 0, Mendoza 0, Ornopia 0.
FEU 59 -- Castro 15, Mamaril 14, Bahuyan 7, Quiapo 7, Jumuad 5, Adriano 3, Abat 2, Antiola 2, Delos Santos 2, Vidal 2, Villanueva 0.
Quarters: 12-6, 31-17, 49-39, 61-59.