TRIPLE-doubles seem to come easy for Calvin Abueva.
Putting on another all-around performance, the reigning league MVP notched the feat for the second straight game, leading San Sebastian to a 77-62 victory over Mapua on Monday in the 88th NCAA men's basketball tournament at The Arena in San Juan.
The pro-bound Abeuva tallied 21 points, 20 rebounds, and 10 assists as the Stags recovered from a lethargic start to win for the 11th time in 14 games and move a half-game behind idle leader San Beda.
It was the fourth triple-double of the season for "The Beast", who once again showed his steadfast motivation to lead the Stags to a title despite being disqualified for a shot at a back-to-back MVP trophy.
"Gusto pa rin niya mag-iwan ng legacy sa team," Stags interim coach Allan Trinidad said.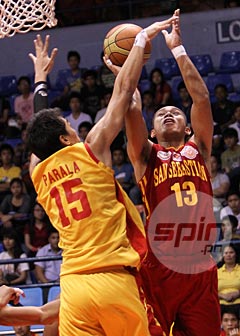 Mapua, which still led, 32-25, at the half, dropped to 5-9, putting the Cardinals' Final Four aspirations in jeopardy.The Stags, who got back at the Cardinals for dealing one of their losses in the first round, also drew another solid showing from MVP frontrunner Ian Sangalang, who made 11 of 18 shots and all six of his free throws on his way to 28 points on top of 10 boards and two steals.
A Josan Nimes layup with two minutes and 17 seconds left in the third gave the Cardinals their last taste of the lead at 50-47, before the Stags scored 10 unanswered points to end the quarter and stay on top for good.
"Sinabi ko wag sila maging over-confident at wag magtanim ng galit sa kalaban (for our first-round loss)," Trinidad said.
The 6-foot-2 Abueva clinched his triple-double of the night following an assist to Michael Miranda, which made it 61-54 for the Stags early in the fourth period.
The scores
SSC (77) -- Sangalang 28, Abueva 21, Miranda 9, Pascual 7, Juico 6, Antipuesto 3, Dela Cruz 2, Rebollos 1, Gusi 0, Vitug 0, Maiquez 0.
MIT (62) -- Nimes 17, Parala 14, G. Banal 12, Cantos 6, Brana 4, Eriobu 3, Ighalo 3, J. Banal 3, Saitanan 0, Stevens 0.
            Quarterscores: 10-18, 25-32, 57-50, 77-62