YVAN Ludovice, Arthur dela Cruz, Ritchie Villaruz, Francis Abarcar, Dave Moralde, and Jun Bonsubre.
These six names may not ring a bell as those of Baser Amer, Anjo Caram, and Jake Pascual, but they deserve the same amount of credit their more heralded San Beda teammates have received following the Red Lions' conquest of the NCAA championship.
While it was Amer, Caram, and Pascual who led the charge when the Red Lions beat Letran in a best-of-three finals that went the distance last week, it was these six unsung heroes who put up the most courageous performance for the Lions this year - and set the tone for the rest of the campaign.
Except for dela Cruz who went on to earn a regular spot in San Beda's rotation, the group soon slipped back into the far end of Ronnie Magsanoc's bench after that one game.
But a long time from now, the story of San Beda's 2012 championship can't be retold without special mention on the group of six players who were left to hold the fort in the Red Lions' opening game of the season against Arellano on June 24 after the rest of the players were suspended for the offseason brawl with San Sebastian's volleyball team.
Continue reading below ↓
Recommended Videos
"Special talaga yung game na yun," Magsanoc said, paying tribute to the six just hours after San Beda's blowout win in Game Three of the Finals. "Yung panalong yun set the tone for our season."
Lacking in players but not in heart, the Lions went on to stun a full-strength Chiefs squad, 81-71, in a win that saw the unheralded group of third-stringers make the most of their opportunity and deliver starter-like numbers.
Ludovice, the Lions' third-string point guard, played the full 40 minutes and came away with 18 points, five rebounds, and four assists, while Dela Cruz, son of former pro Art, registered a double-double of 18 points and 14 rebounds in 35 minutes.
Villaruz buried four triples and finished with 17 points on top of eight rebounds. Abaracar, a last-minute addition to the roster, tallied 16 points, six rebounds, and three assists, while Moralde chipped in a double-double of 12 points and 10 rebounds. The 6-foot-5 Bonsubre failed to score in 20 minutes, but held the fort on defense.
Looking back, Ludovice was just thankful for the opportunity to play in that significant game.
"Nakakatuwa lang dahil natulungan namin yung team. And also thankful ako kay coach na pinagkatiwalaan niya kami sa game na yun kahit anim lang kami. Alam niya na kaya namin and hindi siya nag-sawang i-push kami hanggang sa huli," said Ludovice.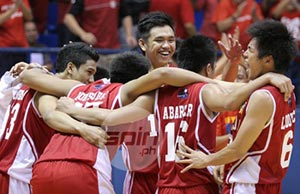 Despite his outstanding performance against Arellano, Ludovice didn't get to play much the rest of the season, contenting himself to the role of an emergency ball-handler.
But he never once complained.
"Kasi may tiwala din ako kay coach. Alam niya kung ano gagawin. So yun lang sinunod ko. Instead na malungkot ako, nag-double effort na lang ako sa mga kailangan namin gawin sa team. Tinanggap ko lang positively."
Dela Cruz, a transferee from Ateneo, went on to average a solid eight points, 5.6 rebounds, and 1.5 assists off the bench for the season and played a key role in the run to the title - the confidence he gained from that game no doubt bolstering his confidence.
"I think that game made me build my self-confidence. I was able to play my game," he said.
Unlike dela Cruz, the rest of the magnificent six are still waiting for the next great opportunity to come in. But Ludovice is already looking forward to next season, hoping to get a chance for more minutes with the departure of Caram.
"I'm very excited. I will work double hard next season. It's a blessing for me and an opportunity."