THE man on top of the stats sheets gets the Most Valuable Player trophy, the best new player is named Rookie of the Year, the average guy who suddenly blossomed into a key player is dubbed Most Improved, and four others who play different positions join the MVP in the Mythical Selection.
But most amateur leagues, including the NCAA, the country's oldest collegiate league, never honor the cagers who have shone tremendously off the bench. No special mention in pre-game introductions, no prominent place in the end-of-season awards ceremony.
Spin.ph now finds it fit to honor these Super Subs and, in the course of the research, is happy to report that most of the sixth men standouts also happen to be the best in the league this season (The list is limited to players who came off the bench in more than half of their total games in Season 88).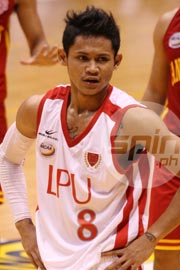 Continue reading below ↓
Recommended Videos
9. Dexter Zamora (16 games played, only three as starter)
Shane Ko's backup at point guard has already produced solid numbers since the start of the season for Lyceum. But since star players Chris Cayabyab, Rich Guevarra, Vence Laude, and Mark Francisco were removed from the roster due to academic deficiencies, the 5-foot-9 playmaker from Bohol raised his production to another level. He ended up averaging 9.3 points, 3.3 rebounds, and 2.4 assists in 22.9 minutes.
8. Jonathan Grey (17 games played, only five as starter)
In some games, Grey seemed to be the best College of St. Benilde cager on the court— even better than main man Carlo Lastimosa, but the 6-foot-1 guard-forward from Biñan, Laguna was never consistent enough to gain the full trust of coach Richard del Rosario. Still, in just 18.6 minutes of playing time per game, the substitute swingman was able to average 7.8 points, 4.3 rebounds, and 1.4 assists per game.
7. Gab Banal (14 games, only six as starter)
After being suspended in the first few games of the season due to residency technicalities, the son of coach Joel Banal proved Mapua made a good decision in recruiting him from La Salle. Banal stood out as one of the better rebounding small forwards in the league this season, norming 7.8 points, 5.9 rebounds, and three assists in 25.3 minutes per game.
6. Russell Yaya (18 games, only seven as starter)
After a head-scratching preseason, Yaya, who turns 24 on November 6, bounced back in the regular season and lived up to his status as the team's leader. Together with Cameroonian center Cedric Happi Noube, the two big men formed a fine high-low post combination for Emilio Aguinaldo College that opposing defenses found hard to stop. The native of Pampanga averaged eight points and 4.7 rebounds in 21.1 minutes per outing.
5. James Patrick Forrester (16 games, only seven as starter)
The Filipino-Canadian rookie emerged as Arellano's go-to guy this season. Not only did the 6-foot-2 small forward stuff the highlight reel with his thunderous slams, he also proved to be a deadly three-point assassin. Forrester ended up as the second-best scorer among rookies with 12.3 points, on top of 5.1 rebounds, 1.3 assists, and 1.3 steals in 23.9 minutes.
4. John Byron Villarias (19 games, only four as starter)
One of the league's underrated players, Villarias broke out of his shell in his second and last year for Jose Rizal University in Season 88. The 6-foot swingman from Bacolod proved to be one of the league's best rebounders and shot blockers in his position. He finished the season as the team's No. 2 scorer with 12.8 points, along with 5.9 rebounds, 2.1 assists, 1.1 blocks, and one steal in 27.5 minutes.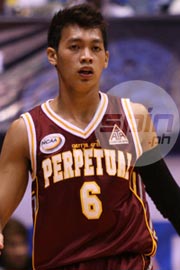 3. Earl Thompson (20 games, only three as starter)
Although he was a non-factor in Perpetual Help's Final Four game against San Beda, the 19-year-old guard from Digos City still had a spectacular season. One of the league's most athletic and complete players, Thompson averaged 11.2 points, 6.3 rebounds, 3.7 assists, 2.1 steals, 1 block in 25.7 minutes in Season 88, on the way to being named the league's Most Improved Player while being honored with a place in the Mythical Team.
2. Raymond Almazan (16 games, all off the bench)
Prodigal son turned Dark Knight. The 6-foot-7 beanpole from Bataan really made up for his mysterious, almost two-month absence in the first round of the elimination round, returning to lead the Knights deep into the postseason and a first Finals stint in five years. The team's anchor on defense, Almazan averaged 6.1 points, 8.8 rebounds, and 1.9 blocks in 20.4 minutes per game, being named the league's Defensive Player of the Year for the second straight year in the process.
1. Baser Amer (21 games, only one as starter)
The shifty sophomore playmaker from Davao typified what a prototypical sixth man should be. A substitute in all but one game in Season 88, Amer provided the spark and leadership San Beda needed to finish off their opponents. Averaging an all-around 10 points, 5.7 assists, 4.9 rebounds, and one steal in 26 minutes per game this season, Amer drew praise from coach Ronnie Magsanoc, a big-time scorer during his playing days in the PBA. "He has a different package and is going to be a full-fledged star in the near future."