BASER AMER'S two triples helped San Beda College pull away and escape rival Letran 68-62 in the NCAA seniors' basketball Saturday at The Arena in San Juan.
The Knights silenced the defending champions with a 13-to-nothing swing within a three minute stretch capped by a Kevin Alas game tying triple, 45-all, at the 4:05 mark of the third period.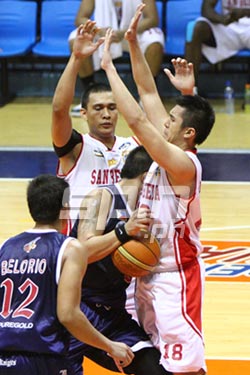 But Amer retaliated and drained back-to-back baskets from beyond the arc, sandwiching Mark Cruz's split freebies, to help San Beda move up by five, 51-46.
The Red Lions widened their advantage to 65-51 after an Anjo Caram basket.
The Knights cut down their deficit to five after an 11-2 run made it 62-67 with 24 seconds left. That run was capped by a Kevin Alas fastbreak layup after he stole the leather from Ryusei Koga.
But that rally came too late and the Lions held on to record their fourth consecutive win.
"There's no safe lead, mabuti nang muntik matalo kesa ang muntik manalo," said San Beda coach Ronnie Magsanoc. "Iba na rin ang nakakauna especially since all teams will push going to the Final Four."
Arthur dela Cruz had 14 points for San Beda, Nigerian import Ola Adeogun added 12, while Rome dela Rosa and Amer both had 11 points.
Amer had eight turnovers but Magsanoc nevertheless let his  sophomore guard runs the plays.
"I trust him (Amer)," said Magsanoc. "I'd rather let him and Anjo (Caram) handle the ball than anyone else."
Kevin Racal and Alas each  finished with 14 markers for the Knights who has an even record of 6-6 (win-loss).

The Scores:
San Beda 68: Dela Cruz 14, Adeogun 12, Dela Rosa 11, Amer 11, Caram 8, Pascual, J. 2, Villaruz 2, Koga 0, Lim 0, Ludovice 0.
Letran 62: Racal 14, Alas, K. 14, Cruz 11, Cortes 10, Alas, J. 6, Luib 3, Almazan 2, Belorio 2, Lituania 0, Gabawan 0.
Quarterscores: 17-21; 43-32; 57-51; 68-62.