SAN Beda slotman Ola Adeogun on Saturday refused to dwell on the racially charged online attack by Letran rival Kevin Racal, saying he has put it behind him.
"Just let him (Racal) be, that's his life," Adeogun told Spin.ph in a somber tone. "We both have a lot of life ahead of us. Bahala siya sa buhay niya. Good luck sa kanya."
"Everything is not just about basketball. Kung may mga fans (na nangba-bash sa akin, okay lang sana) kaso siya basketball player. But I don't want to delve on it. It's all good, I'm leaving everything to God. I am not into vengeance."
Racal came under fire on Friday night after he posted a discriminating comment on a Facebook thread where he called Adeogun a 'mabahong unggoy' (smelly monkey) and accused him of trying to deliberately hurt him.
The post was taken down on Saturday and the Letran star made a public apology on his own Facebook page.
[See Kevin Racal says sorry to Ola Adeogun over racial slur]
Asked if he was hurt by Racal's comments, the Nigerian slotman said: "Syempre naman, mali naman yung ginawa niya. But that's his life, that's how he feels and talk to people online," he said.
Adeogun, a senior marketing student, said he'd rather focus on his studies and bid to make himself a better person.
"But again, I don't have nothing to do (with that comment). I have my own life also to take care of other than basketball life. If that's how they're taught in school about how to handle humanities, fine. For me, I'll just try to be myself and try to focus on the career I'm on."
ADVERTISEMENT - CONTINUE READING BELOW ↓
About the shoving claim of Racal that obviously ticked off the Letran player, Adeogun said: "I was going for the ball, I was just trying to box him out. I am taller than him, and everybody else there, so chances are matatamaan sila. Pero I meant no harm. Why would I hurt them? Hindi naman ako dirty player," he said.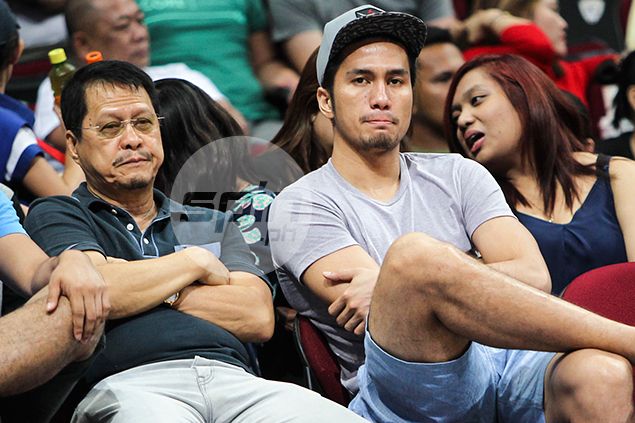 Although Adeogun was quick to put the incident behind him, his girlfriend, Iza Flores, shared Racal's jab came as a double whammy for the player who just a day earlier lost a chance to win a sixth NCAA title for San Beda.
"Masama ang loob ni Ola, nakakasakit naman kasi talaga ng damdamin 'yun. Kasi 'yung pintasan ka lang ng flaws mo, mapapahiya ka na, how much more yung laitin ang buong pagkatao at nasyunalidad mo sa publiko," said Floresr
"He's trying to be civil and move on na. Kaso lang it happened na eh. Nasaktan na siya. He was humiliated, his race was humiliated. Ola won't dare rebut his statement. He will learn to forgive him sooner than we expect," she said.
Flores bared Racal reached out to her to say sorry to Adeogun, but she insisted that the apology be issued publicly.
"I told him na ilabas mo rin in public yan. Kasi sa public mo sinabi yun, don't just PM me your sorry," she said.
This is not the first time that Adeogun became the victim of discrimination. Last January, a Cagayan Valley ballboy came under fire when he taunted Adeogun with a banana during a PBA D-League against NLEX.
Then PBA commissioner Chito Salud immediately summoned Bernard Santos, who was slapped with a 10-game ban.
[See Fury mounts over 'monkey slur' on Adeogun in PBA D-League]
Despite Adeogun putting the incident behind him, Racal may not be entirely out of the woods.
The 6-3 forward made the comment on Friday night, or just hours after signing a two-year deal with Alaska which made him a first-round pick in the last PBA draft.
Technically speaking, he was already a member of the Alaska team when he made the slur and therefore covered by the pro league's rules.
Other San Beda supporters were understandably angered by the slur.
San Beda alumnus and known Red Lions supporter Amis Tumang was one of those criticized the 'irresponsible comment' of Racal, saying discrimination has no place in sports.
"That's ridiculous. You don't call an opponent like that. It's a shame for us Filipinos, who denounce discrimination and unfair treatment overseas," said Tumang, owner of popular sports merchandise brand Amazing Playground.
"Kahit saan mo tignan 'yun, walang anggulo ng sportsmanship yung statement niya against Ola, who has learned to hug the Philippines as his second home," he added.
ADVERTISEMENT - CONTINUE READING BELOW ↓
San Beda team manager Jude Roque said he will seek the advice of school officials on what action to take against the Racal attack.
'Nakakalungkot na may mga ganung pag-iinsulto, masyado nang personal at below the belt. Hindi naman tama yun, nanalo na nga sila, may ganung comment pa," said Roque.
"We would want to investigate that, mag-uusap kami kung ano ang hakbang. Graduate na siya eh pero I can't speak for the school (if palalagpasin nila to), so I need to talk to them (San Beda management)," he said.
Roque, who was criticized by netizens for his comments on officiating in the aftermath of Game Three, said this is an altogether different matter.
"You cannot compare my comment against game officials sa comment ni Racal kay Ola, those are two different levels," he said.
Listen to interview with Adeogun: