IT was a week of redemption and validation in the NCAA as San Sebastian's Calvin Abueva reclaimed his place as the league's best player while San Beda's Baser Amer and Jet Vidal of Jose Rizal University reinforced their stature as the two talented players mostly likely to take 'The Beast's' place when he turns pro.
However, lost in all these outstanding performances are two teams which had a week they'd rather forget.
Who's hot?
San Sebastian's 'Pinatubo Trio'
Back from a one-game suspension, Calvin Abueva heralded his return by delivering a third triple-double of the season, scoring 17 points, grabbing 13 boards, and dishing out 13 assists in San Sebastian's 92-72 thrashing of College of St. Benilde. It was a brilliant display that eased doubts that his disqualification from the MVP race had dampened Abueva's motivation to lead the Stags to their first title in three years.
Abueva's loss may prove to Ian Sangalang's gain. Taking over from his San Sebastian teammate as leader of the MVP race, the 6-foot-6 big man solidified his bid to win the top individual award by averaging 21 points (on a high 56 percent shooting from the field), 13 rebounds, three blocks shots, and two assists in the Stags' twin wins last week.
Also coming up big was the third piece of San Sebastian's dreaded troika. Ronald Pascual regained his old, deadly form just as he had vowed. After averaging just six points on a paltry 12-percent shooting against Emilio Aguinaldo and Lyceum, respectively, the 6-foot-2 gunner was on target against Arellano and St. Benilde, averaging 19 points on a 48-percent clip.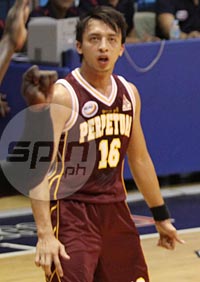 Jet Vidal
Vidal underscored his stature as one of the best shooters -- if not the best -- in the league right now by pouring in a career-high 32 points, including five triples, in powering Perpetual Help to an 88-72 victory over Jose Rizal University last Monday. His efforts helped the Altas catch their victims in third place while earning him NCAA Press Corps Player of the Week honors in the process.
Baser Amer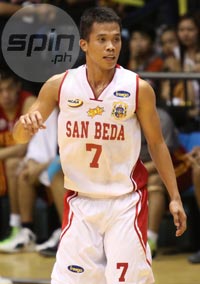 A week after displaying his passing prowess by dishing out a total of 27 assists in two games, Amer showed he was also a capable crunch-time scorer by burying two late triples that enabled defending champion San Beda to defeat archrival Letran, 68-62, last Saturday.  The sophomore point guard from Davao finished with 11 points and six assists against the Knights, and is now the Lions' leading scorer with 9.9 points per game.
Who's not?
College of St. Benilde
The Blazers were 1-1 last week, but their blowout loss to San Sebastian relegated them to a 4-9 record, and on the brink again of another underachieving season. Despite fielding a strong team bannered by scoring machine Carlo Lastimosa, the Blazers obviously failed to live up to their preseason tag as Final Four contenders. They are still mathematically in the hunt for a playoff berth, but they face two Final Four contenders in Letran and JRU in their next outings.
Lyceum
The cellar-dwelling Pirates were the first team to be eliminated from playoff contention last week. Behind a team many believe is just one big man away from becoming legitimate contenders, the Pirates failed to sustain their great start last year when they almost made the Final Four in their maiden campaign in the NCAA.