NCAA commissioner Bai Cristobal is standing by the way his referees handled the heated matchup that led to a bench-clearing incident during the Emilio Aguinaldo-Mapua match on Monday at The Arena in San Juan.
Referees immediately became a target of criticism from fans who felt they let the game escalate after failing to call an offensive foul on John Tayongtong after the Generals' point guard elbowed Cardinals counterpart CJ Isit in EAC's final offensive possession.
Cristobal felt otherwise.
"I will not say hindi na-control," Cristobal said. "Kasi the referees were on top of the situation. There was a non-call, which means hindi pa kailangan tawagan sa tingin ng referee."
Cristobal was quick to add that the referees immediately called a foul on Mapua's Leo Gabo when he pushed Tayongtong as a retaliation for his gesture against Isit.
"Tinawagan namin yun agad," he said.
[See Ugly bench-clearing incident mars NCAA game between EAC, Mapua]
Generals coach Gerry Esplana felt the officials could've handled the situation better.
"Ayaw ko naman mag-sisi, pero may nakita lang ako na had the referee blown his whistle right away pag ganun yung laro, baka na-agapan."
"Sana na-control yun para hindi na lumala," he added.
While suspensions are expected to be handed out, Cristobal said he will still consult the management committee on how the sanctions will meted out.
Continue reading below ↓
Recommended Videos
All but one of the players from each team are expected to get suspended, which could be for one game for clearing the bench or as many as three matches if the player instigated the fight.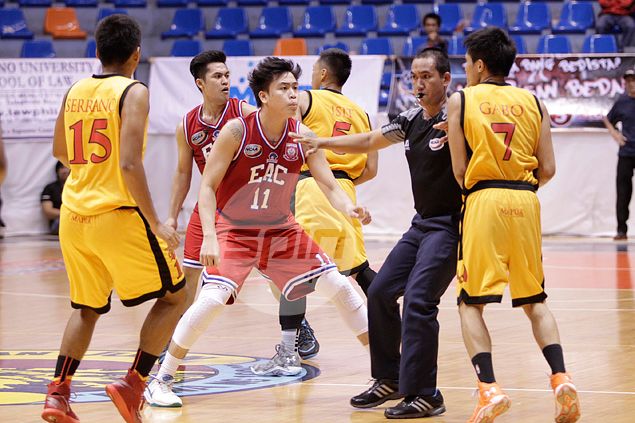 So that will mean only EAC's Jozhua General and Mapua's Jessie Saitanan, who were both ruled out from clearing their respective benches, are going to be the only players available for their team's next game.
One option which the league's Mancom has is to stagger the suspensions for the players from both teams, which are both already out of contention for a Final Four berth.
"Nakabitin kami dun," Cristobal said. "Wala kami rules, pero I know they (mancom) have."
"We'll just comply kung ano ang maging decision," Esplana said.