NATIONAL University is now on the cusp of completing a seven-peat.
The Lady Bulldogs ruthlessly stomped on No. 2 seed La Salle with a 32-point rout, 93-61, in Game One of the UAAP Season 85 women's basketball finals on Wednesday at Smart Araneta Coliseum.
NU took control early with Mikka Cacho leading the charge, finishing with 16 points, four rebounds, three assists, a steal, and a block.
The Lady Bulldogs' went on a dizzying 18-4 assault in the first half to erect the 33-18 lead after a Gypsy Canuto three at the 6:45 mark of the second frame.
From there, it was classic NU, punishing the opposition with its hounding defense while also getting its rhythm from deep as it shot 13-of-29 from distance, extending the lead to its highest at 33, 90-57, after an Angel Surada layup with 2:05 on the clock.
Rhocel Bartolo had 12 points from a pair of threes, while Annick Edimo Tiky had eight points, seven boards, and two assists.
Surada had 10 points and seven rebounds as she led the bench mob, which came up with 56 points against La Salle's seven.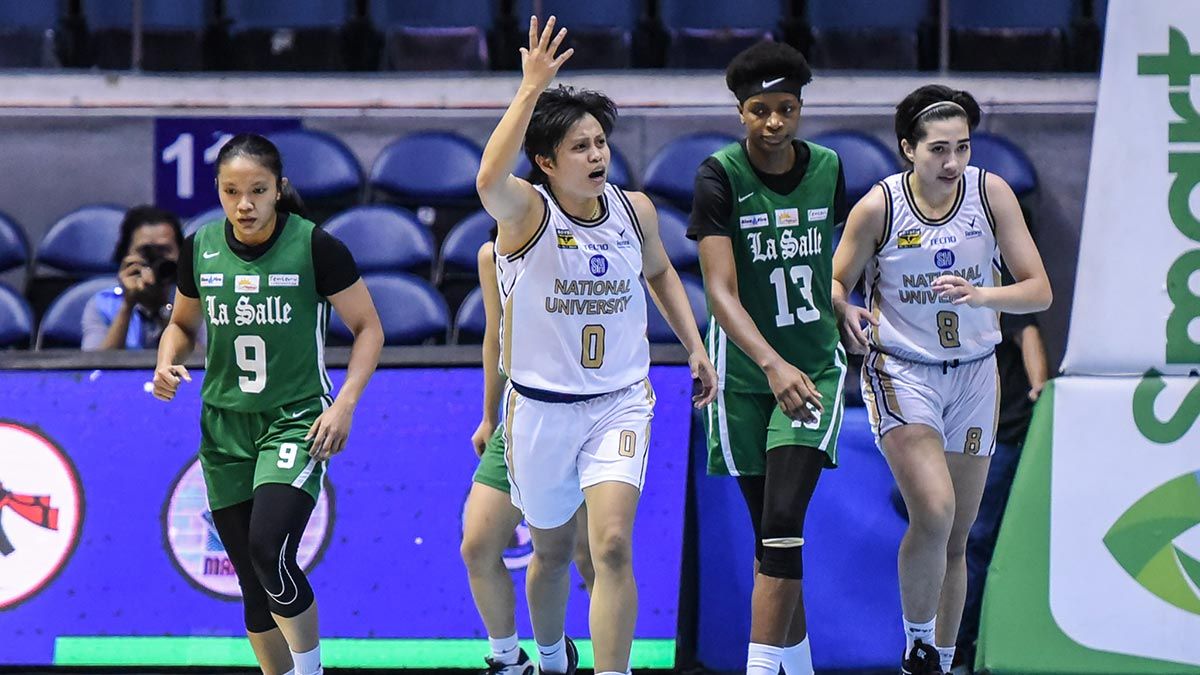 ADVERTISEMENT - CONTINUE READING BELOW ↓
It's also a sweet redemption on the part of the Lady Bulldogs which got back at the Lady Archers after tasting a 61-57 overtime loss last Nov. 23 which ended the former's 108-game win streak.
NU is a win away from handing coach Aris Dimaunahan his first title. Game Two is set on Sunday at Mall of Asia Arena. The Lady Bulldogs won six straight under Pat Aquino.
"We talked about it that in a short series, it's very important that you get the first one. That's the mindset for today's game and I thought our ladies were up to the challenge of getting the win today," said Dimaunahan. "Their energy and their focus, the way they moved that ball today was truly awesome."
Fina Niantcho Tchuido paced the Lady Archers with a double-double of 18 points and 15 rebounds, but had limited support from the locals.
Charmaine Torres got 14 points, five boards, and two assists, as Bettina Binaohan got 11 points, eight rebounds, and six assists.
Lee Sario had nine points on 4-of-15 shooting, while also committing five turnovers against her four assists.
The Scores:
NU 93 -- Cacho 16, Bartolo 12, Surada 10, Clarin 8, Edimo Tiky 8, Cayabyab 7, Pingol 6, Villareal 6, Betanio 5, Solis 5, Fabruada 4, Canuto 3, Dimaunahan 3, Ico 0. Barroquillo 0, Talas 0.
LA SALLE 61 -- Niantcho Tchuido 18, Torres 14, Binaohan 11, Sario 9, De La Paz 4, Jimenez 2, Ahmed 2, Arciga 1, Dalisay 0, Castillo 0, Camba 0.
Quarters: 24-15, 46-32, 69-47, 93-61.