SAN Beda showed no signs of rust even after a long layoff as it downed Mapua, 64-52, in the 88th NCAA men's basketball tournament at The Arena in San Juan Thursday night.
The defending champions turned the almost two-week break to their advantage as they showed a lot of energy and came out with the needed spunk to fend off the Cardinals' tough stand.
"We were able to handle that well," Lions coach Ronnie Magsanoc said of the Lions' long layoff.
Lions skipper Jake Pascual hit the clutch baskets that lifted the defending champions to their fourth win in five games.
Clinging to a precarious 49-45 advantage at the end of the third, the Lions turned to their team captain who scored nine of his 11 points in the payoff period to help the Lions establish a double-digit cushion that took the fight out of the Cardinals.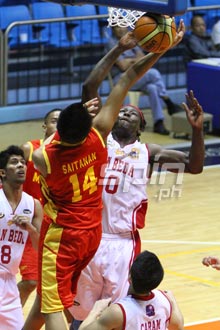 "What went well was the stability of the veterans," said Magsanoc, who also drew significant contributions from Art dela Cruz (13 points, seven boards) and Baser Amer (seven points, eight boards, and eight assists).
"And we were able to limit a team below sixty points. I think it has to be our strength," the rookie mentor added.
The Cardinals, who dropped to 2-5, failed to take advantage of an early 18-17 lead at the end of the first.
The scores:
SAN BEDA (64) -- Dela Cruz 13, Pascual J. 11, Caram 9, Amer 7, Adeogun 7, Dela Rosa 6, Lim 5, Pascual K. 2, Mendoza 2, Ludovice 2
MAPUA (52) -- Banal G. 10, Nimes 10, Parala 8, Ighalo 7, Stevens 7, Estrella 6, Chien 2, Saitanan 2, Banal J. 0, Cantos 0, Braña 0
Quarterscores: 17-18, 35-29, 49-45, 64-52