NCAA commissioner Joe Lipa on Tuesday stood by the referees that called the Letran-San Sebastian knockout match, saying the officiating was "very, very fair" despite the furore over a non-call in the endgame.
The referees had come under fire from San Sebastian interim coach Allan Trinidad, who strongly felt a foul should have been called during a crucial play in the final seconds on Monday night when Letran star Kevin Alas appeared to bump Ronald Pascual while the Stags gunner was attempting a three-point shot.
However, Lipa said when he talked to the referees together with referees supervisor Romy Guevarra and technical committee member Bai Cristobal, the officials explained that Pascual had extended one leg to initiate contact with Alas on the play - the reason they decided not to blow their whistles.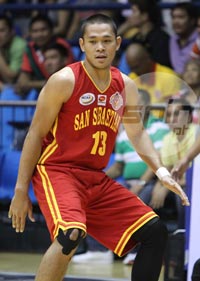 "Nag-usli raw ng paa si Pascual," Lipa told Spin.ph. "The referees were very, very sure of their call."
Continue reading below ↓
Recommended Videos
Lipa said he and his technical team were too far away to render their own judgment on the play. But he assured that the referees were in the right positions and had a clear view of the play when they made their decisions.
Still, Lipa said he had promised Trinidad to review the video of the play. "That was a promise I made to coach Allan and I think he appreciated our efforts. Lahat naman kami gusto namin ma-improve ang officiating sa liga."
The former national coach said they couldn't review the play during the game because the NCAA does not have a video review rule. Unlike in the PBA and the UAAP, the country's oldest league has no such rule because the TV coveror was unable to provide the technology.
Despite the controversial ending, Lipa, now a coaching consultant for PBA newcomer Globalport, said the game was fairly officiated.
"I may be biased because I'm the commissioner, but in my book the officiating was very, very fair during the game," he said. "Both sides had the chance to win it in the end, and the Stags could've won had [Calvin Abueva] not missed those crucial free throws near the end."
Lipa also vouched for the credibility of his pool of referees, each one personally handpicked by Guevarra - a veteran games official who for a long time served as the referees supervisor of the PBA.
"They are credible," Lipa said.