LETRAN star Kevin Racal has apologized to Ola Adeogun and both the Letran and San Beda community after coming under fire for a post in a Facebook thread where he launched a racially charged attack on the Red Lions star.
Racal, one of the heroes of the Knights' epic conquest of San Beda in an NCAA Finals that took the full three games and an overtime to settle, called Adeogun a 'mabahong unggoy' (smelly monkey) in a post on a Facebook thread that showed a picture of Racal being shoved by Adeogun in a rebound play off a free throw.
"(Expletive) talaga ang mabahong unggoy na yan," said Racal in a thread that showed former Letran star and now NLEX player Kevin Alas trying to pacify the Knights forward.
See the exchange: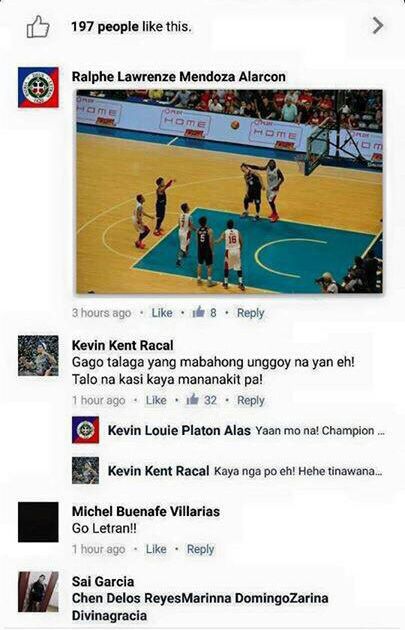 Continue reading below ↓
Recommended Videos
The comment, posted on Friday night, was soon taken down when it gained attention on the popular social networking site, with not a few Facebook users slamming Racal for his racially charged tone.
On Saturday, Racal posted a public apology on his own Facebook account, saying he only got caught up in the emotions as he said sorry to the Letran community, San Beda supporters and the Red Lions' Nigerian student athlete.
"I don't mean what I said to him, nadala lang ng emosyon at humihingi ako ng kapatawaran sa aking mga nasabi," said Racal said as he asked the Letran community to stop the 'bashing' on rival supporters.
"May kasalanan rin ako pero pinagsisihan ko na yun at di na mauulit,' he added.
At the same time, Racal wished Adeogun well and aired the intention to personally apologize to the Red Lions big man in the future.
Here's his full apology: