THE dust had barely settled after Letran's epic Game Three victory over San Beda in the NCAA Season 91 Finals when a tweet by the Red Lions team manager stirred up controversy.
Jude Roque, a former coach and now team manager of San Beda, posted a message on Twitter saying, "Refs made sure the NCAA sees a new champion.'
Contacted for confirmation by Spin.ph, Roque said he indeed posted the controversial tweet and that the @CoachJudeRoque account is his.
In a phone interview, Roque, who is also a columnist for a newspaper, expounded on his tweet, saying it was obvious the Knights got the better end of the officiating in the 85-82 overtime victory in Game Three.
"I think it's pretty obvious: the officiating favored Letran," he told Spin.ph. "Not to take anything away from Letran, they fought hard, they fought well, but I think they got some lift from the referees."
Here's the post: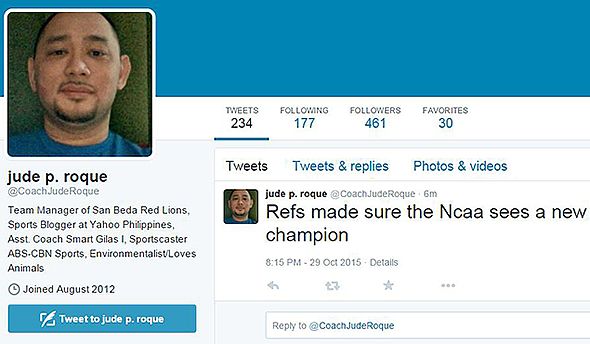 Continue reading below ↓
Recommended Videos