FROM wingman to low-post threat, Dioncee Holts' transition is going quick and smooth fast to the benefit of Arellano in the NCAA men's basketball tournament.
A small forward in the US, the 6-foot-7 American has been forced to move to the frontcourt since he transferred to the Philippines and suited up for the Chiefs.
It's understandable considering his height and heft are more suited down low in the country where size matters.
Making it look easy, Holts has put up two straight double-doubles for the Chiefs, who have emerged as surprise joint leaders with San Beda and Perpetual Help with two straight wins.
"Yung transition niya to big guy, puro barako yung nasa loob, medyo may konting adjustment pa," Chiefs coach Jerry Codiñera said. "Outside player siya eh."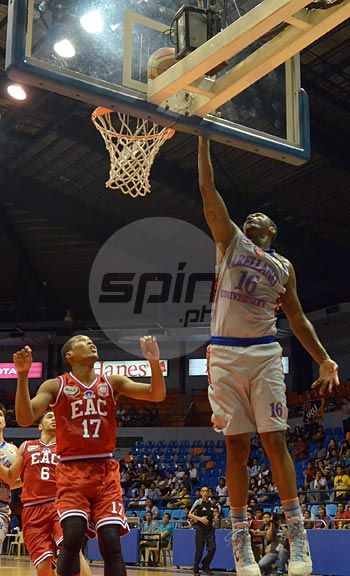 From Chino Hills California, Holts transferred to Manila at Arellano where he spent two years in residency to become eligible this season.
On Monday, Holts tallied 15 points and 10 boards in 25 minutes off the bench against Emilio Aguinaldo College, solidifying his growing stature as a premier big man who could challenge the likes of San Beda's Ola Adeogun and EAC's Cedric Happi.
"He's a very good backup player," Codiñera said. "But we still need our bench to support him. He has a lot of things to work on."
"Kailangan pa rin niya yung tulong nila (Nico) Bangga, (Prince) Caperal," added the coach, a big man himself. "Kailangan pa rin niya ng Filipino support."