[Second of a two-part series]
THE top five teams in Season 91 the NCAA are expected to remain in the running for Final Four spots. Here is the overview of the teams that could very well figure for the championship in Season 92.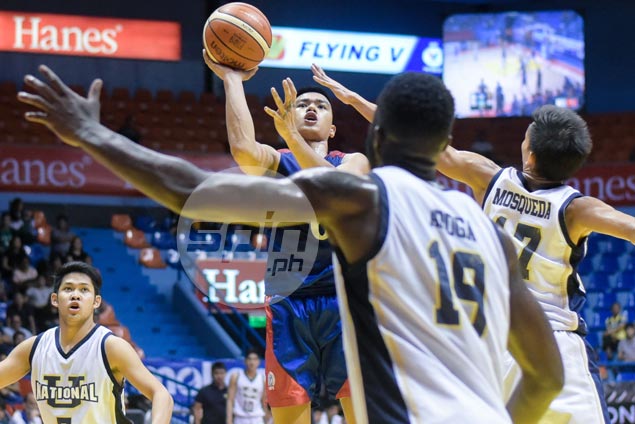 ARELLANO CHIEFS
Season 91 record: 12-6
Losses: Nicole Bangga
ADVERTISEMENT - CONTINUE READING BELOW ↓
Holdovers: Jio Jalalon, Kent Salado, Dioncee Holts, Zach Nicholls, Donald Gumaru
Additions: Lervin Flores
The Chiefs' are title contenders for Season 92, and justifiably so because Arellano has one of the finest point guard in the country in Jio Jalalon, who is being groomed to be part of the Gilas cadets squad.
"Siyempre, siya ang number one guard namin, and the team looks up to him as their leader," said Arellano coach Jerry Codinera. "He is a big factor sa maturity, consistency, and stability sa team."
Jalalon teams up with Kent Salado to make Arellano's backcourt tandem arguably the best in the league, while Lervin Flores has also been impressive in his first year with the Chiefs' NCAA line-up, holding his own against the country's top big men in the preseason.
"Mas marami ng madudukot," Codinera said. "Mas marami na makaka-provide ng quality game. Pero 'yung super standout, wala. They are good complementary players and okay na 'yun."
ADVERTISEMENT - CONTINUE READING BELOW ↓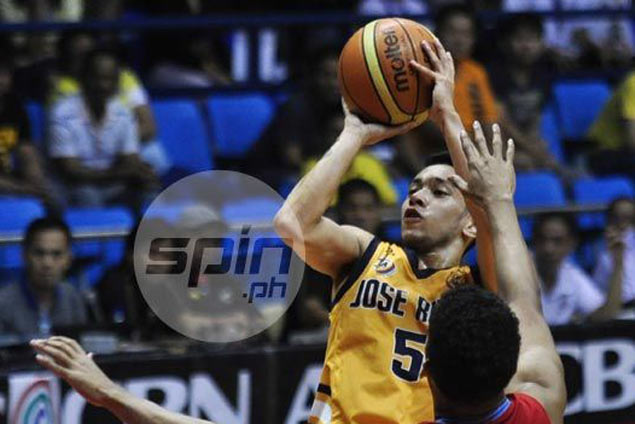 JRU HEAVY BOMBERS
Season 91 record: 12-6 (made it to Final Four)
Losses: Dave Sanchez
Holdovers: Tey Teodoro, Paolo Pontejos, Abdoul Poutouchi, Jordan Dela Paz
The Heavy Bombers are this season's 'mystery team.' JRU avoided the limelight, having a quiet preseason and only participating in the Fr. Martin Cup during the summer. On paper though, JRU boasts of a relatively intact line-up for the coming season.
ADVERTISEMENT - CONTINUE READING BELOW ↓
Tey Teodoro and Paolo Pontejos form an intriguing backcourt for the Heavy Bombers as both guards look to improve on their solid performance in Season 91.
"We need them to step up in order for us to have a chance," said JRU coach Vergel Meneses.
Aside from Teodoro and Pontejos, the Heavy Bombers hope to get contributions from Jordan Dela Paz, Abdoul Poutouchi and Abdulwazak Abdul Wahad.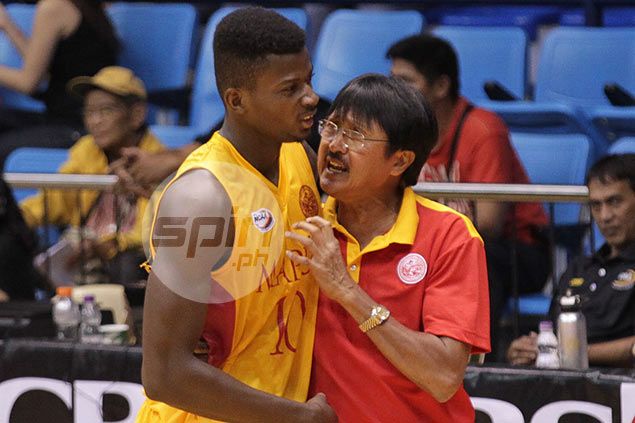 ADVERTISEMENT - CONTINUE READING BELOW ↓
MAPUA CARDINALS
Season 91 record: 12-6 (made it to Final Four)
Losses: Josan Nimes, Andretti Stevens
Holdovers: Allwell Oraeme, CJ Isit, Exequiel Biteng, Darrel Menina.
Returnees: Joseph Eriobu, Andrew Estrella
Season 91 Rookie-MVP Allwell Oraeme will continue to lead Cardinals, who remains among the title-favorites for this season with Josan Nimes as the only major loss for Intramuros-based squad.
"Maganda na 'yung perimeter shots niya, saka maganda na rin 'yung foul shoting niya. Lumaki na rin ang katawan," Mapua coach Atoy Co.
The Cardinals have looked stronger on paper despite the loss of Nimes. Andrew Estrella and Joseph Eriobu return to add veteran leadership to the Cardinals, who will still have CJ Isit and Darell Menina in the backcourt.
"Mas na-embrace na nila ang systema. As long as we play our type of game, we have a chance to win games," said Co.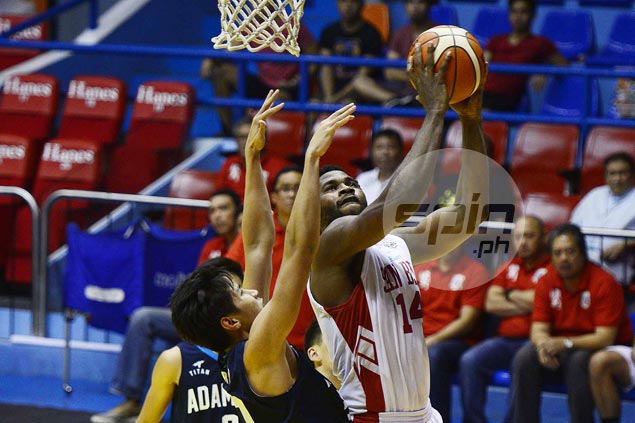 ADVERTISEMENT - CONTINUE READING BELOW ↓
SAN BEDA RED LIONS
Season 91 record: 13-5 (runner-up)
Losses: Art Dela Cruz, Ola Adeogun, Baser Amer, Ryusei Koga
Holdovers: Javee Mocon, Donald Tankoua, Dan Sara, AC Soberano
Additions: Robert Bolick, Davon Potts, Arnold Noah
AC Soberano, Javee Mocon, and Robert Bolick have shown that they are capable of taking the lead for the Red Lions during the preseason. Donald Tankoua is now the lead big man for San Beda in its bid to become champions once again after bowing to Letran last year.
San Beda coach Jamike Jarin, however, is surprised that his team is still being picked as a title contender this season, despite losing key players from their championship runs in previous years in Baser Amer, Ola Adeogun, and Art Dela Cruz.
"We are surprised that a lot of the coaches are saying that we are up there," said Jarin. "But losing your starters and your best defensive player due to graduation, parang why are we in contention? Maybe we are doing something good."
ADVERTISEMENT - CONTINUE READING BELOW ↓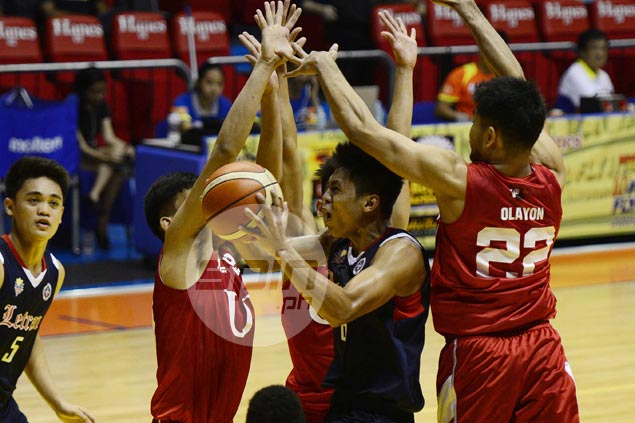 LETRAN KNIGHTS
Season 91 record: 13-5 (champion)
Losses: Mark Cruz, Kevin Racal
Holdovers: Rey Nambatac, Jom Sollano, Bong Quinto, McJour Luib
Additions: Christian Dela Pena, Marco Sario
Letran now looks to Rey Nambatac to lead their title defense for Season 92. Nambatac, though, would rather not have the spotlight on himself even as he vows to be the leader his team needs.
ADVERTISEMENT - CONTINUE READING BELOW ↓
"Sineserve ko 'yun as motivation pero hindi ko 'yun pinaprioritize kasi nung pumasok ako sa Letran, hindi ko naman iniisip 'yun," said Nambatac.
The Knights will no longer have the heart-and-soul of last year's championship team in Mark Cruz, Kevin Racal, and even head coach Aldin Ayo. Letran, however, will still have a solid core in Nambatac, Jom Sollano, McJour Luib, and Bong Quinto, holdovers from the Season 91 championship team of the Knights.
Letran will also have a proven winner at the helm in Jeff Napa, who replaced Ayo, as the Knights vie for back-to-back titles.
"Si coach Jeff, ayaw ng duwag," Nambatac said. "Sa training nga namin, laging competition. Talagang pisikalan. Hopefully, madala namin sa laro."