MAPUA rode Mike Parala's offense and clamped down on defense in the endgame as the Cardinals overwhelmed the hapless Arellano Chiefs, 68-49, on Thursday in the 88th NCAA men's basketball tournament at The Arena in San Juan.
The 6-foot-5 Parala scattered 21 points, 13 boards, and three blocks for the Cardinals as the veteran slotman again underscored his emergence as a big offensive threat this season.
"Malaki ang kumpiyansa ni coach at ng teammates ko sa akin kaya hindi ko sila pinapahiya," said the 24-year-old Parala, who was known more for his defense in his early years in the league.
"Hopefully he'll be consistent throughout the season," Cardinals' coach Chito Victolero said of his veteran big man.
Jonathan Banal, whose father, Koy, is the coach of Arellano, set aside his familial ties as he also shone offensively for the Cardinals with 16 points, including four three-pointers.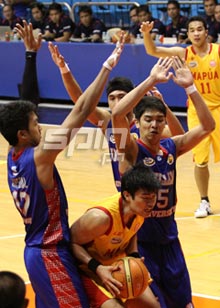 But more than offense, it was the Cardinals' defense that got the job done as they outscored the Chiefs in the payoff period, 18-3. 
They also held the Chiefs to a paltry 30-percent shooting.
"Yung defense talaga ang naging key," Victolero said. "Ang goal namin ay maging number one defensive team sa NCAA."
The win hiked the Cardinals' record to 4-5 and dealt the Chiefs their sixth loss in nine games.
The Chiefs came within 48-53 with a little over nine minutes left, but the Legarda-based squad just could not buy a bucket after John Bangga split his charities with five minutes and 37 seconds remaining.
Rocky Acidre, who had a team-high 20 points, spearheaded the Chiefs' third-quarter rally that cut the deficit to just four, 46-50, heading into the fourth.
The scores:
MAPUA (68) --- Parala 21, Banal J. 16, Banal G. 10, Nimes 10, Ighalo 6, Chien 3, Cantos 2, Eriobu 0, Saitanan 0, Brana 0
ARELLANO (49) -- Acidre 20, Bangga 7, Caperal 5, Pinto 4, Hernandez 4, Salcedo 4, Cadavis 3, Forrester 2, Zulueta 0
Quarterscores: 15-10, 33-26, 50-46, 68-49