COLLEGE of Saint Benilde is having one of the worst years by any NCAA team in the league's long history.
With only two games remaining in their season, the Blazers are in danger of ending up winless in the entire seniors basketball season - a record in futility that no team has gone through in the modern history of the country's oldest collegiate league.
Such is unthinkable for those who saw how the school started in the NCAA, where the Blazers captured the championship in just their third year in the league back in 2000 with a team coached by the late Dong Vergeire and led by the likes of Sunday Salvacion, Mark Magsumbol, Al Magpayo, and Lou Gatumbato.
However, CSB has fallen on hard times since. The school has not reached the Final Four since 2002, and the closest the Blazers got was in 2014 when a team led by now pro Carlo Lastimosa finished fifth in the season standings.
A major reason for their struggles is the schools failure to lure top talent while trying to match offers from more popular programs with admittedly more financial muscle, Blazers coach Gabby Velasco admitted.
"Hindi ganun ka-popular 'yung team, hindi ganun ka-popular 'yung program," he said. "Although ang lagi naming sinasabi, this is La Salle school so education-wise, panalo ka and hindi ka lugi. But then, nowadays, sad to say, maraming mga player na polluted ang mind. Ang habol is material things. That's one drawback."
Continue reading below ↓
Recommended Videos
"Ang Benilde, we only give the standard. Meal allowance, dormitory, and scholarships. Other schools, they give extras," added Velasco, the team's coach since 2013.
The school's strict academic policies when it comes to student-athletes also makes CSB less enticing to top recruits, according to Velasco.
"Kailangan ipasa mo 'yung entrance exam. You have to meet the standard. May nakuha kami dati na magagaling but they don't meet the standard, inaayaw agad kami. Sinasabihan kami ng school na try to look for other players," said Velasco.
Being one of the schools in the La Salle system also has its drawbacks as most of the top recruits, even those coming from CSB's juniors school La Salle Greenhills, often choose to go to its sister school across Taft Avenue for the chance to play in the 'more glamorous' UAAP.
"Even La Salle Greenhills, they look forward to (playing for) the other school. Iba ang UAAP, iba ang level ng UAAP. I must say, competition-wise, halos pareho lang or even mas better pa 'yung NCAA. Even Zobel and Greenhills, mga players nila, we try to convince them but they always look forward to playing with DLSU," said Velasco.
"Probably, one of the reason is the league. Mas glamorous 'yun eh (UAAP). Another reason, probably, is our program," he added.
"Gusto ko na magkaroon ng pangalan 'yung program. We have a few success pero hindi pa ganun. Siguro it will be a different story kung siguro 'yung program is doing well. When you are winning, siguro that will change 'yung perception ng mga tao sa Benilde."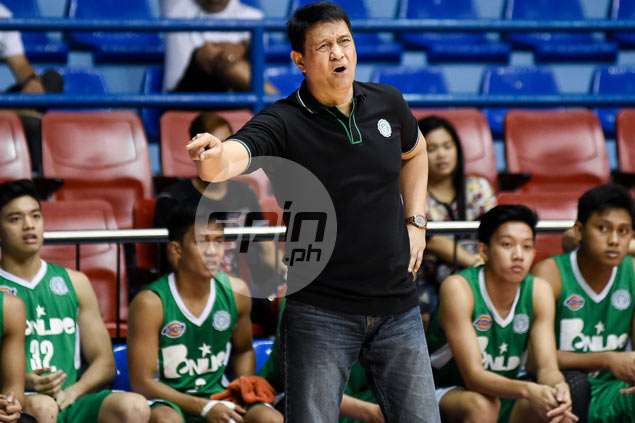 In the end though, Velasco said the problem lies in the priorities of recruits — whether it be a good education, a popular basketball program, or personal rewards.
"It's true that you have the same values, same education, same things that we aim for, although we offer non-traditional courses. Pero like I told you, hirap kami sa recruit. There are some who believe in Benilde, per se, there are some who believe in La Salle education. But karamihan, sad to say, ngayon, pera-pera na lang," said Velasco.
Despite the difficulties, Velasco said he wouldn't have it any oher way.
The outspoken CSB coach said he would not have the school change its recruitment system or the direction of the program, which is geared toward nurturing student-athletes in the true sense of the words.
And Velasco sees no need to revamp a sports program that, despite the struggles in basketball, has seen the school bag five overall titles including the last back-to-back in Season 90 and 91.
"I'm proud of the school especially our brothers who are running the school because it's not all about winning. Dito kasi, what is important for us is we teach good values. The school wants to win but more than that, may maturo ka sa player. We try to push our players, we try to develop, hopefully win for the program," he said.
"But in the end, after that, more than winning is that we teach good values. We share it to them, we guide them properly, because basketball, especially college, five years lang. After this, you are on your own. If you are lucky, you go to the professional ranks. But what if you are not? Dun papasok 'yung sana maimpluwensiyahan namin 'yung mga players so that they can live 'yung magandang pamumuhay," added Velasco.
Velasco also took pride in former players who have lived the true student-athlete life, naming ex-Blazers in Mark Romero and current PBA cager Paolo Taha who chose to finish their studies before moving on.
"I'm proud to say, dito karamihan ng mga players dito, nag-graduate. They really studied and finished college. They value education. Whether you have a winning program or you lose in the NCAA, you don't win a game, ang importante is after college, you learn something out of basketball and you apply it in real life," said Velasco.
"Ang masasabi ko, Benilde was able to maximize 'yung talent ng bata, not only in basketball but in education. Naturuan at napag-graduate sila," he added.