THE schedule messed up their routine, an unusually early game contributing to a sluggish start.
But the gritty University of Santo Tomas Tigers got their game going just in time to nip the "home team" National University Bulldogs, 77-71, on Saturday in the UAAP men's basketball tournament at the Mall of Asia Arena.
It was another come-from-behind victory for the Tigers, who were forced to an early start as the league wanted more time to prepare for the Ateneo-La Salle duel later in the day.
"Pinagising kami ng 8 a.m. so nagbago 'yung body clock," said UST coach Pido Jarencio. "Pagdating ng alas-dose, magaling na kami. Oras na namin mag-basketball. Malamig kami noong first half pero noong second half, uminit na kami."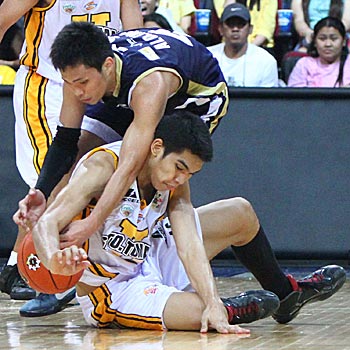 Continue reading below ↓
Recommended Videos
The Tigers fell behind by as many as 14 points in the second quarter and trailed by 10 early in the fourth but turned things around late to capture their second win in three outings.
Jeric Teng led UST with 21 points while Aljon Mariano, Clark Bautista and Jeric Fortuna combined for the final nine Tigers points to secure the hard-earned victory.
It was the second-consecutive win for the Tigers, who overcame a 19-point deficit against Ateneo nine days ago.
The Tigers trailed, 53-63, early in the fourth quarter but scored 13 fastbreak points and limited the Bulldogs to only 11 points to gain the victory.
NU dropped to 2-2 won-lost.
The Bulldogs had a 66-59 lead halfway through the fourth period but Teng finished a 9-0 run with a three-pointer for the go-ahead basket. Bobby Ray Parks quickly answered with another trey but that was NU's last field goal.
Mariano scooted to the basket for a fastbreak lay-up followed by a Bautista lay-up, both coming off turnovers. Fortuna was fouled on a reverse lay-up for a three-point play, 75-69, with one minute and five seconds in the game.
The scores:
UST 77 — Teng 21, Abdul 11, Mariano 10, Fortuna 10, Ferrer 8, Bautista 7, Afuang 6, Lo 4, Vigil 0, Pe 0, Daquioag 0.
NU 71 — Parks 25, Mbe 13, Alolino 13, Javillonar 11, Villamor 5, Rosario 3, Ignacio 1, Rono 0, Neypes 0, Khobuntin 0, De Guzman 0, Betayene 0.
Quarterscores: 15-21; 36-41; 53-60; 77-71.