A FORMER PBA player and coach who bleeds black, gold, and white, is the latest to throw his hat in the search for the next University of Santo Tomas coach.
Aris Dimaunahan applied for the Tigers' head coaching job in the hope of giving something to a school that's so dear to him.
He asked for the blessing of Blackwater team owner Dioceldo Sy before he officially submitted his application. Dimaunahan is currently one of the deputies of coach Nash Racela with the Elite.
"I submitted by letter of intent Sunday addressed to Rev. Fr. (Ermito) De Sagon, O.P. Director/Regent IPEA (Institute of Physical Education and Athletics) before ako umattend ng mass sa UST," related Dimaunahan to SPIN.ph on Monday.
"Very supportive si Boss Deo and happy also."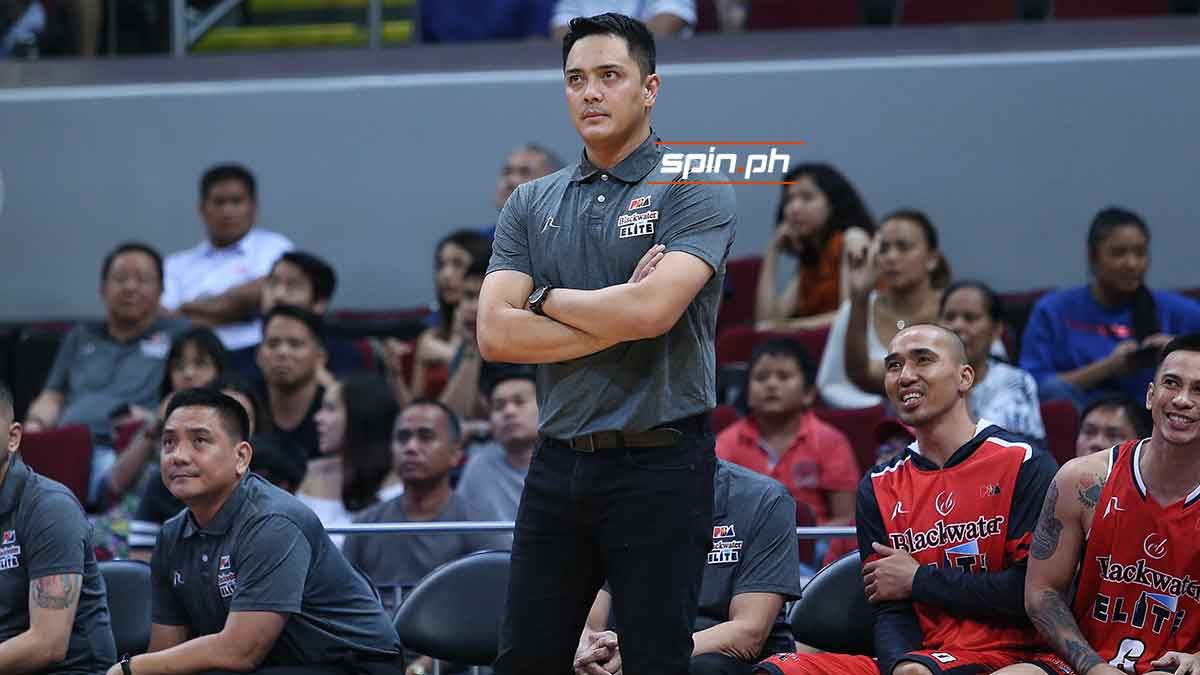 ADVERTISEMENT - CONTINUE READING BELOW ↓
Dimaunahan's bid to seek the coaching job at UST was boosted by the endorsement of school alumni owing to his loyalty to the Pontifical school and the good track record he had despite just a short stint as interim coach of Blackwater in the PBA.
The 42-year-old native of Lipa, Batangas is the latest former UST player now being considered for the coaching job after Siot Tanquingcen, Chris Cantonjos, Estong Ballesteros, Gilbert Lao, Ed Cordero, and Potit De Vera.
Meanwhile, Chris Gavina and former PBA Best Import Sean Chambers are among the non-UST alumnus who expressed their interest to be the next UST coach following the resignation of Aldin Ayo in the aftermath of the 'Sorsogon bubble' issue.
Dimaunahan played pro ball for more than a decade, suiting up for teams such as Barangay Ginebra, Air21, Coca-Cola, Barako Bull, and Alaska. He last played for San Miguel in the ASEAN Basketball League (ABL).
ADVERTISEMENT - CONTINUE READING BELOW ↓
He was a third-round pick by Ginebra in the 2002 draft (26th overall) and stayed long enough in the PBA despite just relegated in UST's second team during his entire stay with the school in the '90s.
"Hindi ako makapasok sa lineup ng Tigers sobrang lalakas at gagaling talaga ng mga playes ng UST," Dimaunahan admitted. "But it didn't stop me from my dream of reaching the PBA. It gave me added motivation and fueled my determination to keep on going. I told myself, I am not enough so I have to keep on pushing."
He'll forever be grateful too, to the late legendary UST coach Aric Del Rosario.
"He showed me how to persevere and be resilient, and be committed to my dream," said Dimaunahan.
While with UST, Dimaunahan was good enough to make the Philippine U-18 team that won the gold in the South East Asian Basketball Association (SEABA) meet and played in the 1995 Asian Basketball Confederation (ABC) For Men (now FIBA-Asia Men's Championship) in Seoul, South Korea.
ADVERTISEMENT - CONTINUE READING BELOW ↓
He later saw action for Blu Detergents owned by Sy in the defunct Philippine Basketball League (PBL).
Dimaunahan began his coaching career shortly upon his retirement as a player, serving as one of Leo Austria's assistants with Blackwater.
He was also one of the early deputies of multi-titled coach Pat Aquino with the National University Lady Bulldogs and the Philippine women's team.
The 6-foot guard with the movie actor-looks got his biggest coaching break in last year's PBA Commissioner's Cup when he took over as interim mentor of the Elite.
He steered Blackwater as the third seeded team going to the playoffs – the best elimination round finish in franchise history – but lost in the do-or-die Game 3 of its quarterfinals series with Rain or Shine.