UNIVERSITY of the Philippines outlasted Adamson in a sheer battle of attrition on Wednesday, 89-87, before a roaring sellout crowd at the Smart Araneta Coliseum to reach the UAAP Finals for the first time in 32 years.
Skipper Paul Desiderio hit the final two baskets of overtime to finish what the Maroons couldn't complete in regulation, to the delight of UP fans that had endured season after season of despair over the last three decades.
Those maroon-clad fans roared as one as the final buzzer heralded the Maroons' first trip to the UAAP Finals since a fabled team led by Benjie Paras and coached by Joe Lipa won the school's only championship in 1986.
"We made it. It wasn't without hard work, it wasn't without tears and challenges. I know that this team is going to go through it," said UP head coach Bo Perasol as he held back tears in the post-game interview.
"We could have already given up. I told myself that if I cannot stand for my team, if I cannot be confident for my team, if I cannot believe in my team, who else would believe?" Perasol added.
By overcoming the twice-to-beat advantage of the second-seeded Falcons, the Maroons earned a shot at top-seed and defending champion Ateneo in a best-of-three finals where they are the clear underdogs.
Continue reading below ↓
Recommended Videos
Game One of the championship series is set on Saturday at the Mall of Asia Arena.
Seeing action in their first Final Four in 21 years, the Maroons blew a 16-point lead in regulation but still led 78-75 after a daring drive to the basket by Cebuano guard Jun Manzo.
However, celebrating UP fans were left stunned by Jerom Lastimosa, who banked in the game-tying three-pointer with 2.6 seconds left. His second trey opened a six-point lead for the Falcons in overtime.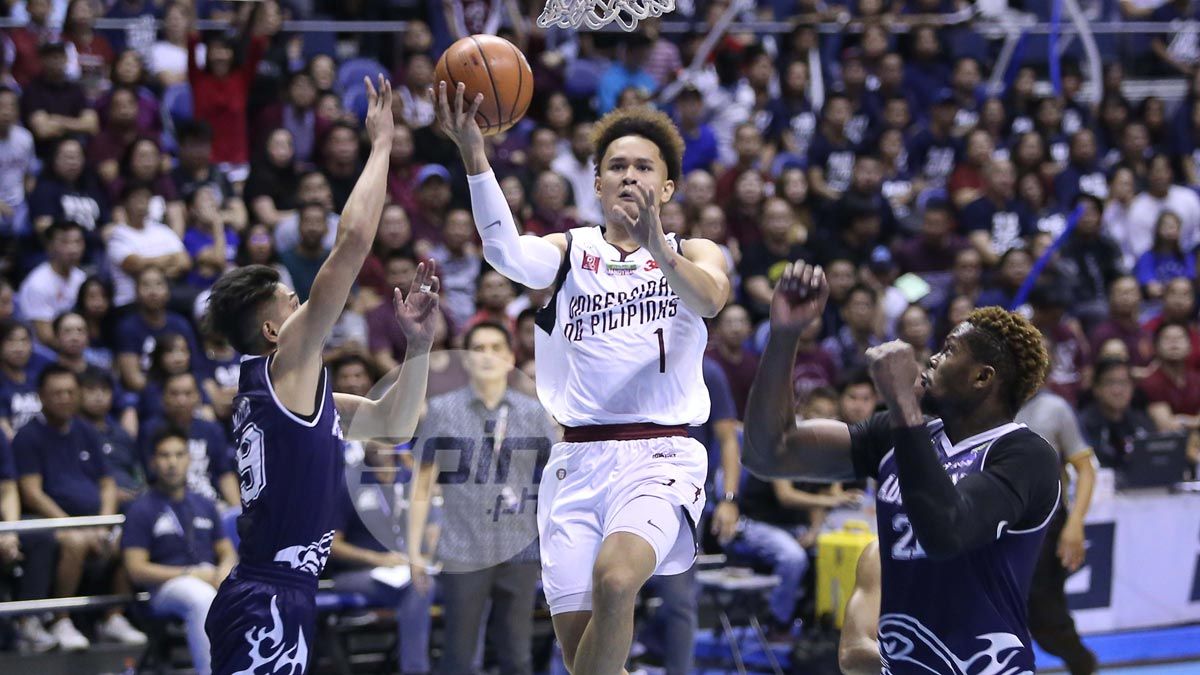 But when all seemed lost for the Maroons, Desiderio, the lone holdover from the UP team that went 0-14 in 2013, rescued this magical season.
The Cebuano forward, who went 2-for-18 from the floor in regulation, hit a three-pointer and a clutch jumper in an 11-3 finishing kick that turned the game around.
Desiderio's struggles weren't noticeable in regulation as Juan Gomez de Liano put on a show for the Fighting Maroons while battling foul trouble.
With Gomez de Liano leading the attack, the Fighting Maroons led by as many as 16, 60-44 before a furious Adamson attack to end the third paved the way for a classic ending.
Jerrick Ahanmisi and Lastimosa led the Falcons' late fightback, with Lastimosa's clutch three with 2.6 seconds left in regulation forging the extension.
"We'll enjoy this first, but tomorrow, we're gonna sit down and think what we have to do for us to have a chance against Ateneo," said Perasol.
Gomez De Liano finished with a career high 30 points along with six rebounds to lead the Fighting Maroons while Bright Akhuetie finished with 13 points and 17 rebounds.
Ahanmisi led the way for the Falcons with 20 points as Lastimosa added 17, with his final eight pints coming in the last moments of regulation and overtime.
However, Sean Manganti was held to just six points on 1-of-7 shooting as the Falcons dropped to 0-8 in the Final Four, thrice wasting twice-to-beat advantage.
The scores:
UP 89 - Gomez de Liaño Ju. 30, Desiderio 16, Akhuetie 13, Gomez de Liaño Ja. 8, Tungcab 6, Prado 6, Dario 5, Manzo 4, Jaboneta 1, Lim 0, Vito 0.
AdU 87 - Ahanmisi 20, Lastimosa 17, Sarr 16, Camacho 10, Pingoy 7, Manganti 6, Magbuhos V. 6, Espeleta 2, Mojica 2, Bernardo 1.
Quarters: 26-16, 51-42, 64-67, 78-78, 89-87