"THIS win is like sunshine after long dark days of torrential rains."
Those were the words of former University of the Philippines coach Ricky Dandan, spoken just moments after the Maroons beat the University of the East Warriors, 63-48, back on August 19, 2012 to halt a 15-game losing streak in the UAAP men's basketball tournament.
Guess it's safe to say that the sun has yet to shine again on the Maroons since that memorable upset of the Red Warriors, which so stung the UE community that head coach Jerry Codinera was replaced by fellow UE great Boycie Zamar just four days later.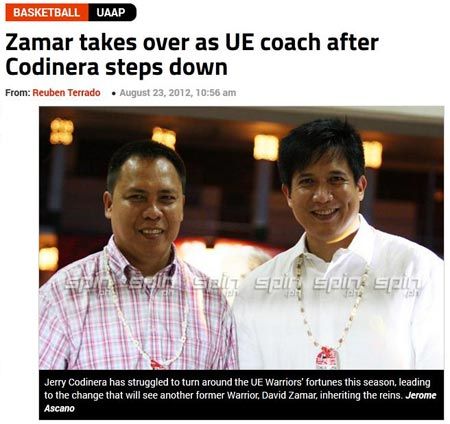 But almost two years since that win, the UP Maroons are still searching for their next victory.
So with a game against fellow minnow Adamson just two days away, representing what many felt is the Maroons' best chance to end a 27-game losing streak, we felt it's as good a time as any to look back on how things have changed in the UAAP since then.
* Since UP's last win, Dandan was replaced by current coach Rey Madrid midway through the 2013 season and is now an assistant coach at Ateneo.
* UP's last win was so long ago that UE has undergone not just one but two coaching changes since then. Zamar, who replaced Codinera, was booted out in favor of Derrick Pumaren to start the 2014 campaign. Codinera, by the way, is now with the Arellano Chiefs.
* Henri Asilum and Paolo Romero are the only remnants of that UP team that last tasted a victory. Asilum topscored in that game with 14 points. Romero is sitting out this season with an injury. Mikee Reyes was injured that year and has actually left and returned to UP since then. Still, no UP victory.
* Only five UE players from that team that lost to the Maroons are still with the team today. They include Roi Sumang, who finished with a team-high 18 points in that loss. Dan Alberto, Chris Javier, Bong Galanza, and Ivan Hernandez are the other holdovers.
* Among the UAAP coaches during that season when UP last won, three are now coaching in the PBA: Ateneo's Norman Black, University of Santo Tomas' Pido Jarencio, and Adamson's Leo Austria, who has been appointed San Miguel Beer coach. A fourth one, Gee Abanilla of La Salle, briefly handled Petron/ SMB.
* Among the award-winners that season, three are already in the PBA in Greg Slaughter (Mythical Five), Nico Salva (Finals MVP), and Terrence Romeo (Mythical Five), who eventually won the UAAP MVP award the following year. Ten other players are now playing or have played in the PBA.
* Alfonzo Gotladera was still with La Salle when UP last won a game. He is now playing in his first season with Ateneo after a one-year residency.
And here's one final footnote: Spin.ph was barely two months old the last time UP won. Here's hoping we won't wait as long to write about the next Maroons victory.