THE UAAP Commissioner's Office has denied Far Eastern University's appeal to spare Ron Dennison of a suspension following a disqualifying foul on University of the Philippines' Paul Desiderio last Sunday.
UAAP commissioner Rebo Saguisag said the disqualifying foul on Dennison was upheld after a careful review of the game tape based on the points FEU management raised in its appeal.
By upholding the disqualifying foul, Dennison will now serve an automatic one-game suspension in the Tamaraws' next game against University of Santo Tomas.
Videos showed Dennison hitting Desiderio in the abdomen area that led to UP guard and his former teammate at University of Visayas high school team crumpling to the floor in pain.
Dennison later claimed Desiderio flopped in that play as well as in other instances in the match - an accusation the UP Maroons forward denied.
[See Dennison accuses Desiderio of serial flopping]
At the same time, Saguisag said the Commissioner's Office has yet to receive an appeal from La Salle after coach Aldin Ayo was ejected from the Green Archers' game against University of the East on Wednesday for mockingly attempting to make a referee wear eyeglasses after a contentious call.
Ayo's ejection means an automatic one-game ban which the coach is set to serve for La Salle's marquee match against Ateneo on Sunday, unless the ban is lifted upon a La Salle appeal.
Continue reading below ↓
Recommended Videos
However, Saguisag said La Salle has 48 hours - or until Friday - to appeal Ayo's suspension.
The lawyer said his staff has already reviewed the game tape and found the referee was right to eject Ayo after his eyeglass stunt, but insisted that he is ready to look into any point to be raised by La Salle in the event it appeals.
"This is another case involving suspension which, without parties looking for reconsideration, I did my own review and upon initial review, parang I think warranted naman," Saguisag said of the Ayo ban.
"But if the concerned parties can point out glaring errors, I have to answer those point for point kasi baka may ma-miss ako. I also want to hear the other party," he added.
On the non-call that angered Ayo, Saguisag said, "That's another issue. The other issue is the disqualifying foul, the reason for the disqualification was warranted, regardless of what happened prior. We need to address it separately."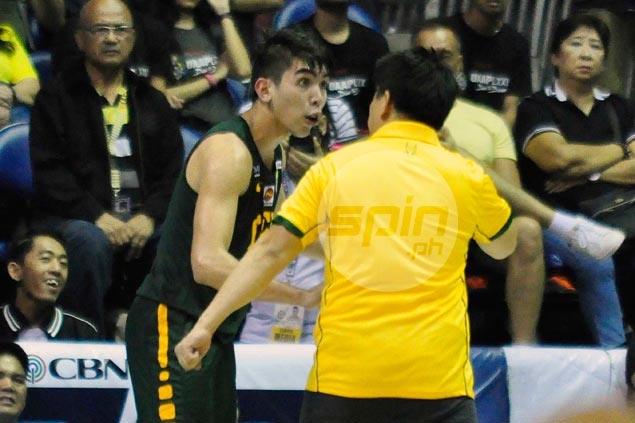 Sagu