LA SALLE GREEN ARCHERS

Fifth of an eight-part series

Season 77 review: Finished the elimination round with a 10-4 win-loss card, lost to Far Eastern University in the Final Four.
Key holdovers: Jeron Teng, Prince Rivero, Jason Perkins, Julian Sargent, Abu Tratter, Thomas Torres.
Key losses: Arnold Van Opstal, Norbert Torres, Almond Vosotros, Yutien Andrada, Robert Bolick, Terence Mustre, Matt Salem
Newcomers: Joshua Caracut, Jollo Go, Enzo Navarro, Jon Gob, Joshua Torralba, Larry Muyang, Daryl Pascual, Leondro Joson, Andrew Langston.
DE La Salle failed to defend its title last year after it came a win short of making back to the finals, losing to Far Eastern University in their win or go home match in the Final Four.
At least seven key players from last year's team won't be back this time including big men Arnold Van Opstal and Norbert Torres as the Green Archers are bound to make do with a team that will have no less than nine rookies in its roster.
Spin.ph takes a look at five questions facing the Falcons heading into Season 78.
1. How will the absence of Van Opstal and Ben Mbala affect the team?
While Torres, Almond Vosotros, and Yutien Andrada were no longer expected to return after having played their final year last season, an unexpected turn of event came during the preseason when the 6-foot-7 Van Opstal decided to forego his final year of eligibility due to a nagging injury.
Continue reading below ↓
Recommended Videos
La Salle coach Juno Sauler said Van Opstal would have been an important piece to the Green Archers' campaign for Season 78.
"One of the veterans sana siya," said Sauler. Sayang 'yung size niya and experience. Pero mahirap din pilitin dahil hindi 100 percent 'yung Achilles niya. Even last year, he felt that already," said Sauler.
Also missing from the line-up is Cameroonian import Ben Mbala, who was declared ineligible by the UAAP Board for this season after playing in a league during his second and final year of residency.
"Makakatulong sana siya. That's the decision of the board, we can't do anything about it," said the soft-spoken mentor.
Without Van Opstal and Mbala, Sauler is looking at the positives that in the absence of the two, the other bigs will have to assume a bigger role with the team, mentioning the likes of Abu Tratter, and rookies Larry Muyang and Jon Gob as among those he expects to fill in the gap.
"It's an opportunity for Tratter, Muyang, Gob, and the rest of the bigs to also prove that they can play in the collegiate level," he said.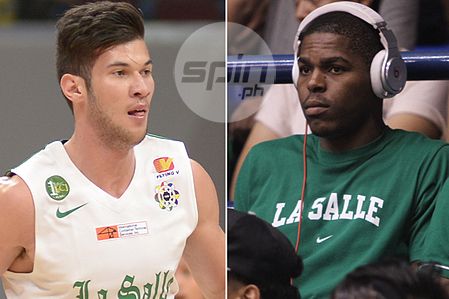 2. Can Andrei Caracut immediately contribute to the team?
Caracut will be one of the nine newcomers the Green Archers will parade this season. The former San Beda Red Cub immediately proved he belonged by averaging 14.1 points per outing in the Filoil preseason.
Sauler believes Caracut will be able to contribute immediately for the team. What Sauler likes about him is his versatility. "Si Andrei can play the one and the two. It helps also. If Thomas (Torres) is playing, Andre can play the two. Minsan he can play the one. Ang daming dimensions na nadadala ni Andrei sa team."
Sauler, however, expects all of his rookies to have an impact with the loss of their veterans.
"Everyone will have the opportunity to play," said Sauler.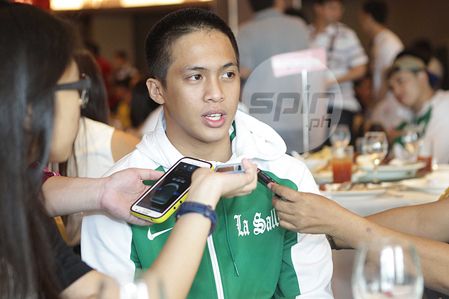 3. What more can Jeron Teng bring to this team?
Expect Teng to be a more complete player this season.
Teng will continue to be the star of the Green Archers in his fourth year with the team. The offseason gave him an opportunity to improve his game to a different level, according to Sauler.
"His basic fundamentals, his shooting, his jumpshot niya have improved. His passing has improved. He reads the defense well now and he can get the ball to the best opportunity for us to score. His defense has improved a lot. Malaking bagay 'yun," said Sauler.
4. Will Prince Rivero be able to continue his solid preseason play?
With his impressive offseason, Rivero is expected to figure very well in Sauler's rotation for this year. The former La Salle Greenhills star averaged just 4.6 points and 4.2 rebounds in his first year with the Green Archers, but that didn't stop Gilas Pilipinas cadet head coach Tab Baldwin to select him as part of the national team for this year's Southeast Asian Games in Singapore.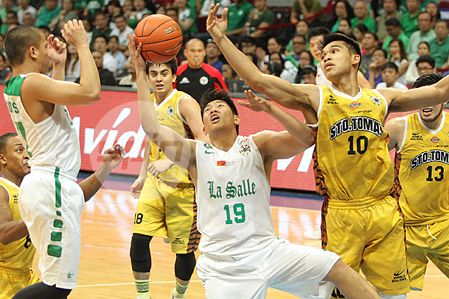 The incoming sophomore also topped two statistical categories for the Green Archers in this year's Filoil preseason tournament, posting a double-double of 15.2 points and 10.3 rebounds.
With most of the veteran from last season no longer around, Rivero will have a bigger role for the Green Archers this season.
5. Can La Salle return to the top?
After winning the crown in 2013, the Green Archers where brought back to earth after missing on the chance of a return stint to the finals when Mac Belo hit a buzzer-beating triple to lift Far Eastern University past the Final Four.
Although La Salle was actually a basket away from making the title series last season, Sauler downplayed the school's chances this time by taking a conservative approach, more so since half of the team are comprised of rookies.
The La Salle coach also sees an unpredictable year, just like last season.
"We are coming in with nine rookies. Hopefully we could perform a lot better than last year," he said.
"Hindi mo talaga masasabi," Sauler said. "First round, akala mo 'etong team na 'to, tapos lalakas bigla 'yung ibang teams. Even the Final Four last year, maraming surprises. You can't discount any team or favor any team. It's unpredictable."